Seth MacFarlane Asked To Return As Oscar Host?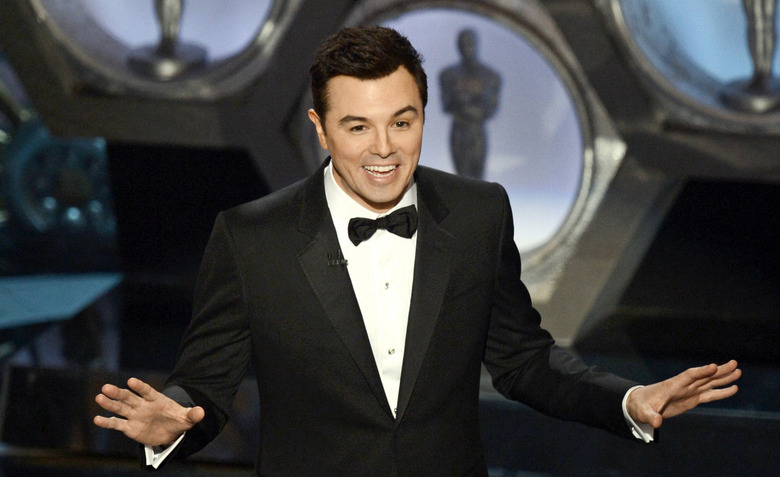 The 2013 Oscar ceremony had plenty of fans and detractors alike, but the Academy of Motion Picture Arts and Sciences has firmly aligned themselves with the former camp. Producers Craig Zadan and Neil Meron have already been set to return, in an unusually early decision, and now the word is they're eager to get host Seth MacFarlane back as well. Hit the jump to keep reading.
MacFarlane said shortly after this year's ceremony that there was "no way" he'd return for next year's, and even before the event was telling press it'd likely be "a one-time thing for me." But his stance may very well have mellowed now that he's had a couple months to recuperate.
On the other hand, one of the reasons he was reportedly uninterested in hosting again was his very busy schedule, and his load isn't likely to lighten up anytime soon. He's getting the pieces together for his next feature, A Million Ways to Die in the West, and has a Ted sequel coming somewhere down the line. In addition, he's juggling several TV shows including a new pilot, Dads, with Giovanni Ribisi.
MacFarlane's stint as Oscar host attracted some controversy, especially due to his use of sexist jokes, but ratings-wise he was a success. Nielsen ratings indicated that the overall viewership was up 3% from the Billy Crystal-hosted festivities in 2012, with an even bigger increase in the coveted 18-34 demo that he was hired to attract. If MacFarlane turns down the gig, don't be surprised to see AMPAS reach out to other edgy, young-skewing comedy types to get the job done.