'Breaking Bad' Announces August Return And New Talk Show [Updated With Cast And Crew Panel Video]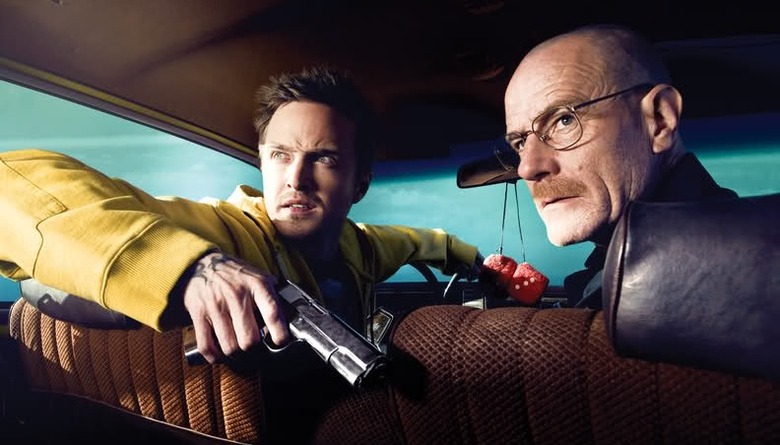 Walter White's end is nigh, or at least the end of his story is. AMC has announced a late summer return date for the second half of the fifth and final season of Breaking Bad. And because the network knows just how much fans love to pick apart Walt's latest diabolical dealings, they've also revealed plans to debut a post-episode discussion show called Talking Bad, along the same lines as The Walking Dead's Talking Dead. Hit the jump to keep reading.
[Update: Until Breaking Bad kicks off, you can whet your appetite with a juicy hourlong panel hosted by Conan O'Brien with showrunner Vince Gilligan, stars Bryan Cranston, Dean Norris, Betsy Brandt, RJ Mitte, Bob Odenkirk, and Jonathan Banks. See it after the jump.]
August represents a later start than usual for the series. The first season premiered in January, the next two in March, and the remaining two in July. Assuming the next eight episodes air one per week without any gaps, that'd put the series finale on September 29.
Also beginning in August will be the hourlong Breaking Bad chat show Talking Bad, which will air at 11:00 PM. No host has been announced and few details have been revealed, but we can probably expect something similar to Talking Dead in tone, scope, and format. The Chris Hardwick-hosted show premiered in 2011 with Season 2 of The Walking Dead, and has proved a big success for the network.
Finally, filling the 10:00 PM gap between Breaking Bad and Talking Bad will be Low Winter Sun, the new crime drama starring Mark Strong and Lennie James. Former Breaking Bad actor David Costabile also appears in the series, so it'll be sort of like we're spending the interim hanging out with the ghost of Gale Boetticher.
Update: AMC also just posted this panel in front of the Academy of Arts and Sciences. It's unclear when exactly this event took place, but it's worth definitely worth watching now. Spoilers for the most recent season ahead.
[Source: HitFix]