Video Reaction: Michael Bay's 'Pain & Gain', Plus 'Star Trek 2' And 'World War Z' Footage [CinemaCon]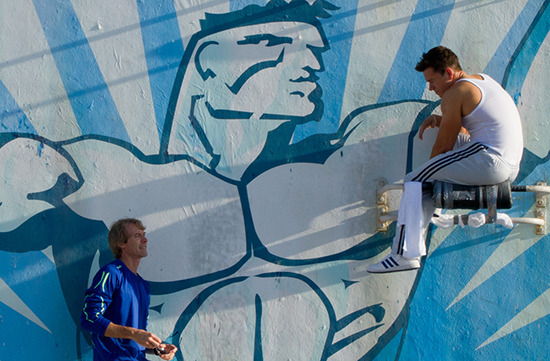 It's that time of year again. We're in Las Vegas at CinemaCon, an industry-only convention (formerly called ShoWest) for movie theater owners and distributors. The Hollywood studios come here each year with their biggest stars and clips from upcoming films, hoping to impress the theater owners into booking their "products" in the coming year. For example, last year we saw footage from films that were in production and weren't set to be released until late 2013. Some studios also present unfinished cuts of their films super-early. This year Pixar is screening Monsters University, for example.
The opening night of CinemaCon 2013 featured a presentation by Paramount Pictures. They screened a reel with brief clips from a ton of upcoming films including Darren Aroofsky's Noah and Jason Reitman's Labor Day. They also presented 18 minutes of Star Trek Into Darkness in 3D, three clips from World War Z, and Michael Bay premiered his film Pain & Gain. After the jump you will be able to read my first reaction to Bay's latest, along with a video blog I recorded with Alex from FirstShowing giving our thoughts about everything screened.
Video blog reaction:
Peter's reaction to Michael Bay's Pain & Gain:
Pain & Gain was everything I hoped it would be, a batshit insane true story of a bunch of 'roided-out muscle heads and their ill-conceived plan to steal millions. Each character is hilariously stupider than the next, in a good way. Imagine Michael Bay directing his version of a Coen Brothers story.
While the film feels more like Bad Boys than Transformers, Pain & Gain contains almost no action whatsoever. There's only one small explosion. The budget is much lower than what we expect from Bay (reportedly a mere $25 million) but the film is shot with the awesome ADD intensity that we have come to expect from Bay. Imagine the insane circular dolly shot from Bad Boys 2, which circled in and out through the wall during a gun fight sequence, but utilized instead for a dramatic comedy sequence at a porn king's house. (Picture Bay's version of the firecracker sequence from Boogie Nights.)
The story is unbelievable, yet the movie starts with a title card promising "Unfortunately this is a true story." Later in the third act, when the shit has hit the fan in spectacular fashion, text comes on the screen to remind us again "this is still a true story." This is one of the rare movies where almost every character who appears on screen is either a horrifically terrible or one of the dumbest human beings to exist, yet Bay finds a way to keep them interesting and fun to watch. The only real exception to this rule is one character who doesn't make an appearance until maybe an hour and twenty minutes in.
The Rock is hilarious as a Jesus-loving musclehead. The soundtrack, mostly made up of 90's staples, makes for a really fun time. It is a beautiful-looking film that truly feels like the 1990s. (The decade, not the films that were made in it.) My only real complaint is that I feel there might be a better cut of this movie at probably 15 minutes shorter. Admittedly, I'm a fan of Bay's work and appreciate the craziness that he is able to bring to the big screen, but it seemed like the movie theater owners also responded well to the film last night.