'Fast & Furious 7' Set For July 2014 Release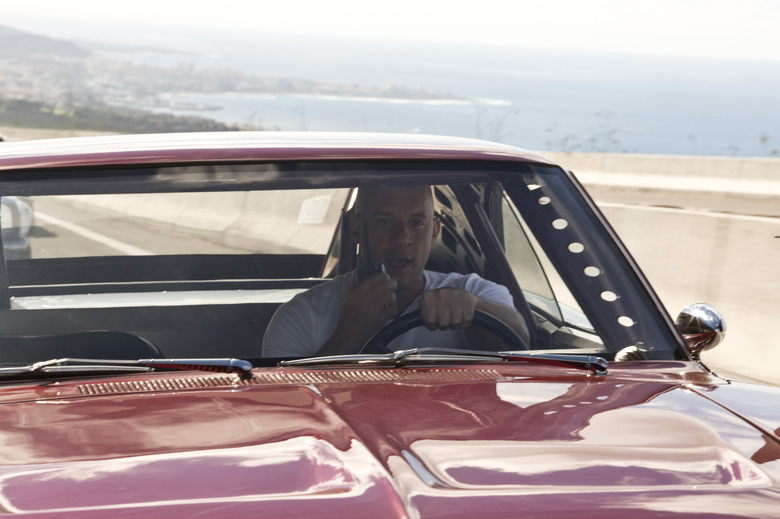 Universal is really charging forward with the next movie in the Fast and the Furious series. Vin Diesel said recently that Fast & Furious 7 (that's the official title at this point) will shoot this summer, and now, at CinemaCon, the actor has announced a July 11, 2014 release for the seventh film in the series.
Justin Lin, who has directed four installments of the series, recently revealed that he was breaking away from the franchise, citing the studio desire to move quickly on the seventh film as a limiting factor for him. James Wan (Saw, Insidious) was floated as his replacement, and that development was confirmed today at CinemaCon.
In addition, Diesel promised that the seventh film will (naturally) be the biggest yet, and said that the approach to the series is "a new way of making films," with storylines already planned for future installments. Presumably, that means that we'll see developments in the next film or two pay off a couple more films down the line — at least as long as the series continues to be profitable.
Update: Here's the official line from Universal:
Continuing the global exploits in the franchise built on speed, Vin Diesel and Paul Walker lead the returning cast of FAST & FURIOUS 7, which will be released by Universal Pictures on July 11, 2014.  James Wan directs this chapter of the hugely successful series, and Neal H. Moritz and Vin Diesel return as producers.
Presumably, Diesel and Walker are the only actors announced so as not to spoil events of the sixth film, and perhaps because the contract status of some potential returning actors isn't yet solidified.