TV Spots: 'After Earth', 'Pacific Rim', 'This Is The End'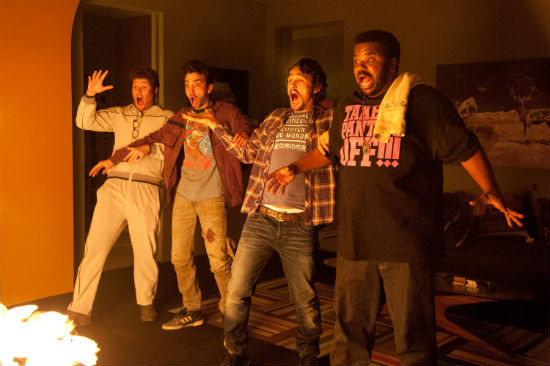 By definition, the apocalypse can only really happen once. But in the movies, it seems to crop up every few weeks or so.
Today we have three TV spots that face the end of the world in very different ways. In M. Night Shyamalan's After Earth, Will Smith and Jaden Smith struggle for survival on the now-uninhabitable planet. The characters of Guillermo del Toro's Pacific Rim, meanwhile, are trying to "cancel the apocalypse" with the aid of some giant-ass robots. And the famous folk in Seth Rogen and Evan Goldberg's This Is the End may just go out laughing. Check 'em all out after the jump.
[via Collider]
Hopefully this'll be the film to turn around Shyamalan's downhill slide. After Earth lands in theaters June 7.
A few days later we'll get the release of Rogen and Goldberg's directorial debut This Is the End, in which their Hollywood gang faces end times while partying at James Franco's place. If crisis reveals the true character of a person, it appears that all of these guys are hilariously rotten, through and through. Poor Aziz Ansari.
[via Coming Soon]
This Is the End arrives June 12.
Maybe Rogen and company would've fared better if they'd had Pacific Rim's Idris Elba to give them a rousing pep talk. The end of the world is always an epic affair, but this TV spot is the biggest and boldest of the bunch. As Del Toro so succinctly puts it, the film boils down to "giant fucking monsters against giant fucking robots."
Pacific Rim drops July 12.