'Deceptive Practice' Trailer: Ricky Jay's Magical World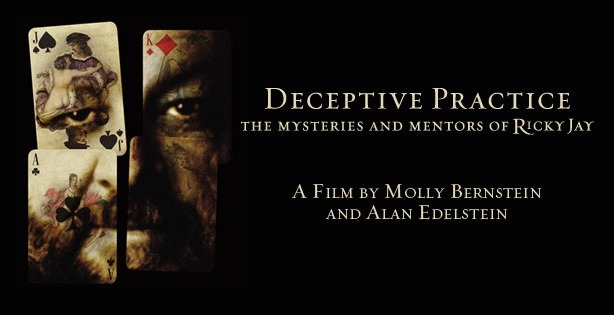 Sandwiched between the garish stylings of The Incredible Burt Wonderstone last month and the criminal thrills of Now You See Me next month is the real, eye-popping magic of Deceptive Practice: The Mysteries and Mentors of Ricky Jay, a documentary about the famed illusionist and actor.
Considered by some to be "the most gifted sleight-of-hand artist alive," Jay began honing his craft as a young child and has been performing ever since. Film fans may also know him from his acting and consulting work; he's worked several times with David Mamet and has appeared in Deadwood, The Prestige, Magnolia, Boogie Nights, and many other titles. Watch the new trailer for the documentary, featuring appearances by Mamet and a young Steve Martin, after the jump.
As the subtitle indicates, Deceptive Practice will look not just at Jay but the people who influenced him in his youth and the people surround him now. His first instructor was his amateur magician grandfather, but he also learned from magic legends like Al Flosso, Slydini, Cardini, Dai Vernon, and Charlie Miller.
While those names will mean more to you if you're a magic aficionado, the film got very strong reviews at the New York Film Festival audience last year and should appeal to anyone who likes to be dazzled. Deceptive Practice debuts in New York tomorrow, April 17. For release dates in other cities, check the film's official website here.
Ricky Jay is a world-renowned magician, author, historian and actor (often a mischievous presence in the films of David Mamet and Paul Thomas Anderson)—and a performer who regularly provokes astonishment from even the most jaded audiences. DECEPTIVE PRACTICE traces Jay's achievements and influences, from his apprenticeship at age 4 with his grandfather, to such now-forgotten legends as Al Flosso, Slydini, Cardini and his primary mentors, Dai Vernon and Charlie Miller. Featuring rare footage from his 1970s TV appearances (doing 3-card Monte with Steve Martin on The Dinah Shore Show) and told in Jay's inimitable voice, this is a remarkable journey inside the secretive world of magic and the small circle of eccentrics who are its perpetual devotees.