Possible Concept Art For Dubai's 'Marvel City' Theme Park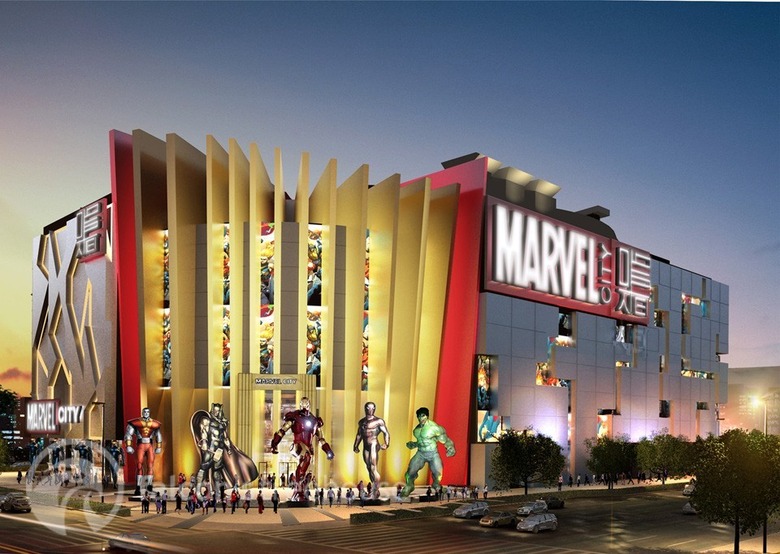 Are you scratching your head looking for an exotic, geek-oriented destination vacation? Dubai could be a strong option in the next few years. A series of images have gone online for a planned Marvel themed attraction called Marvel City, and it looks like comic book heaven. Every inch is infused with exciting views and cool rides.
The structure, designed by Falcon's Warehouse, is expected to open in 2014, though construction isn't quite moving at a fast space. Check out a huge gallery of images below.
Thanks to Falcon's Warehouse (via Comic Book Movie) for these concept images. The original page has been removed so don't be surprised to see these disappear quickly, or that they're not legitimate, but they're worth checking out none the less.
Here's how CBM says Falcon's Warehouse described the 111,485 square foot venue, expected to draw 10,000 visitors a day.
As you explore the indoor 'superhero city", you'll encounter one incredible attraction after another, with interactive experiences featuring some of the most advanced entertainment technologies and special effects ever devised. Along the way, you'll also discover an assortment of ingenious educational/informational experiences that will propel you to a new understanding of the real-life scientific principles behind the superhero action.
The supercharged atmosphere of Marvel City gets much of its energy from the cleverly themed designed treatments and varied materials that give each floor its own distinctive character, tying the surroundings visually and texturally to that floor's resident superhero. At the same time, the original background music is specific to each floor, giving the guest spaces a rich emotional dimension that perfectly reflects the mood of the surrounding attractions. It all adds up to a totally immersive guest experience that is endlessly intriguing...and often aw-inspiring. In a word, Marvel City is simply super.
A little research into Marvel City turned up this theme Park message board that includes several images of the proposed location last week. And it's completely barren with one crane. So, who knows how long it'll take for Marvel City to reach its potential glory, if ever. Either way, if the venue becomes half of what you see above, it's going to be a bucket list destination for comic fans across the world.