'The Kings Of Summer' Trailer Doesn't Quite Convey The Film's Personality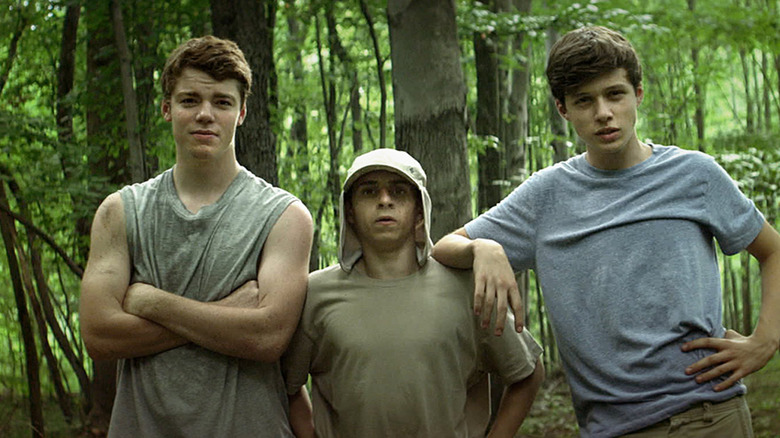 Joe is sick of dealing with his depressed father after the death of Joe's mother; Patrick's cloying parents are getting him down, too. Sounds like the beginning of a typical teen comedy, but The Kings of Summer (which debuted at Sundance as Toy's House) isn't quite that. This is a coming of age story that calls back to certain tendencies from '80s teen movies. Yet it has personality of its own to spare as Joe, Patrick, and a strange friend literally make their own home as as summer blooms.
Nick Robinson, Gabriel Basso, and Moises Arias play the lead trio of characters who escape to the woods where they can barrel into adulthood without parents. A host of comedic talent including Nick Offerman, Megan Mullally, Alison Brie, Mary Lynn Rajskub, Kumail Nanjiani, and Hannibal Buress show up to offer support.
We liked the movie a lot at Sundance, and the first teaser, while pretty limited, did a good job of getting the tone of the film into a minute of footage. This first trailer doesn't do such a good job, however. Still, check it out below.
Jordan Vogt-Roberts (Funny or Die Presents) makes the leap to features with this one, and he does a much better job than this suggests.
So this trailer is pretty lame. The film has a more skewed sensibility that doesn't really come forward in this edit. And then there's the fact that the little guy Biaggio (Moises Arias) is the movie's secret weapon, and he's barely got a decent presence in the trailer. The last scene here gets at what the film is really like, while the rest of the trailer tries to sell a very middle-of-the-road indie comedy.
The Kings of Summer opens on May 31.
Premiering to rave reviews at the 2013 Sundance Film Festival, THE KINGS OF SUMMER is a unique coming-of-age comedy about three teenage friends – Joe (Nick Robinson), Patrick (Gabriel Basso) and the eccentric and unpredictable Biaggio (Moises Arias) – who, in the ultimate act of independence, decide to spend their summer building a house in the woods and living off the land. Free from their parents' rules, their idyllic summer quickly becomes a test of friendship as each boy learns to appreciate the fact that family – whether it is the one you're born into or the one you create – is something you can't run away from.