Tilda Swinton And Other Survivors Stare Out Of 'Snowpiercer' Character Posters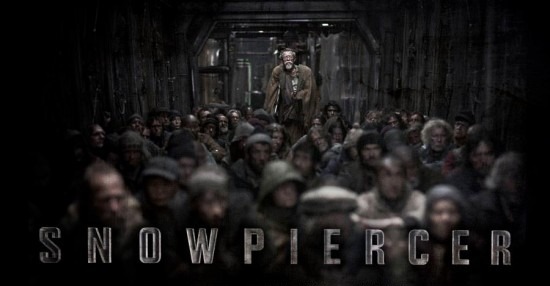 We've seen Tilda Swinton play many different roles, with an eclectic variety of looks over the years. But we've never seen her in a getup quite like what she sports for Bong Joon-ho's new film Snowpiercer. If you can imagine a halfway point between an aged Princess Leia and a stern schoolmistress, you're close to nailing her look.
Nine character posters for the film have arrived today, and they show Swinton and eight of her co-stars (Chris Evans, Jamie Bell, John Hurt, Ed Harris, Ko Ah-sung, Song Kang-ho, Octavia Spencer and Ewen Bremner) in their fairly grimy garb.
Why the downtrodden appearance for all? Well, Snowpiercer takes place on a train that carries some of the last remnants of humanity as it speeds across an icy landscape. The film, directed by the man who made Mother and The Host, produced by Park Chan-wook (Oldboy, Stoker) and based on French graphic novel Le Transperceneige, could be the big genre film at Cannes this year.
Until we get a chance to see some footage, check out the character sheets below. Cross-reference them with these character bios for more info.
Thanks to Movies.com.
The Weinstein Company has Snowpiercer's US rights, but hasn't set a date at this point.
Snowpiercer is set in a future where, after a failed experiment to stop global warming, an Ice Age kills off all life on the planet except for the inhabitants of the Snowpiercer, a train that travels around the globe and is powered by a sacred perpetual-motion engine. A class system evolves on the train but a revolution brews.