The Academy Museum Of Motion Pictures Opens In 2017; See Photos And Plans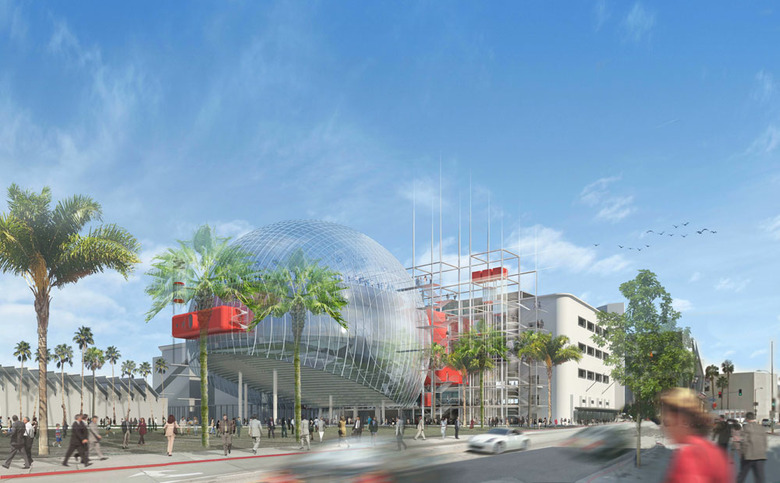 After Thursday's news that the legendary Hollywood landmark, TCL (formerly Grauman's) Chinese Theater was getting an IMAX upgrade, another Los Angeles movie destination has been revealed. A few years back the Academy of Motion Picture Arts and Sciences announced plans to create a movie-themed museum. Now, we know what it will look like, and what'll be in it.
Called The Academy Museum of Motion Pictures, the venue located on Fairfax and Wilshire will be a six-story, 290,000 square-foot museum attached to a massive 1,000 seat dome for movie events. There will a full red-carpet experience, an interactive moviemaking exhibit, and floors dedicated to the history of cinema. The plan is to have it open in 2017. Read more below.
The Academy on Twitter revealed some information, as did Variety. Here are images of the museum's floor plan and concepts.
And the Los Angeles Times has a great write up on what each of those floors will cover. The main theater will be named after David Geffen, who donated $25 million to the museum. The entrance will be a huge staircase with a red carpet like at Cannes or the Oscars. The ground floor of the main building will mostly be a two story interactive exhibit on how to make a movie. Visitors will be able to light, film, act, and edit footage themselves. Next to that is a huge space for travelling exhibits.
The second floor will be dedicated to the history of movies, with all sorts of topics covered. Here's a rundown courtesy of the Times.
Lumière and the Cinématographe
Edison and the Kinetoscope and Vitascope
the rise and influence of the studio system
the defining of classic film genres — musicals, westerns, gangster films, horror films
the impact of World War II on movie making
film noir and the blacklist
the impact of TV on the movie industry
the business of moviemaking, including exhibitors, studios, guilds, agencies
2017 is a long time off so expect more before then. But this is going to be a destination for movie fans all over the world for years to come. Here's the official site with more information.