Star Wars Bits: Anthony Daniels Talks 'Episode VII,' Harrison Ford Does Not, Plus Dark Horse Comics And More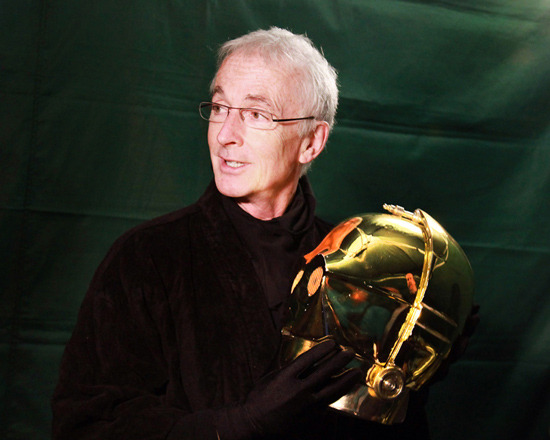 We may receive a commission on purchases made from links.
These days, the Star Wars news never stops. Thank god you have Star Wars Bits to help you out. After the jump, read about the following:
Anthony Daniels suggests he could be returning for Star Wars Episode VII and that Star Wars Celebration will have some answers.
Harrison Ford does NOT like being asked about Star Wars Episode VII.
Watch a seven-hour documentary on the original Star Wars Trilogy.
Read an interview with two Dark Horse bigwigs discussing the upcoming adaptation of The Star Wars and see some concept art...
...but that interview isn't without its controversy.
Star Wars historian J.W. Rinzler also did an interview about The Star Wars comic book.
Billy Dee Williams will be at Star Wars Weekends at Disney on June 7-9.
Check out the art for a new Star Wars Concept Art book.
The recent layoffs at Disney are related to the studio's purchase of Lucasfilm.
Related to that, read an insider's look at the final days at Lucasarts.
Darth Vader isn't happy he lost the Star Wars
A major movie museum might have its own Death Star.
When are we going to get some real answers about Star Wars Episode VII? C-3PO believes they'll come during Star Wars Celebration, taking place July 26-28 in Germany. Anthony Daniels spoke to the Digital Spy and hinted at the convention as a potential hot bed of information and suggested that he might be returning for the upcoming sequel:
Look, it's all very early days and I don't want to wear anybody out by speculating or letting you waste your energy by saying 'What do you think?' I'm certainly not sitting by the phone, but it's always nice when it rings. Do you know what I mean?
While Daniels is fine talking about Episode VII, Harrison Ford is not. The Los Angeles Times posted three separate clips of the actor promoting 42, being asked about the film, and giving incredibly horrible, uncomfortable answers. Here's just one from The Late Show with David Letterman.
For anyone with a full day to kill on YouTube, Reddit (via The Playlist) posted the seven hour documentary on the original Star Wars trilogy. It's a simple edit of three fan made documentaries we've posted before, filled with goodies regarding the classic films. The docs are Star Wars Begins, Star Wars: Building Empire and Star Wars: Returning To Jedi.
Entertainment Weekly did an interview with Mike Richardson, founder of Dark Horse Comics, and Dark Horse editor Randy Stradley. They discuss the upcoming release of The Star Wars, a comic adaptation of George Lucas' original script. It's pretty extensive and interesting. Unfortunately, TheForce.net reports Stardley is very unhappy with the piece, calling it "full of inaccuracies, misquotes, misattributions, and backhanded assumptions."
Accurate or not, the article has these three concept images from the comic.
There's even more on The Star Wars comic book by Dark Horse over on Comic Book Resources, which spoke to writer J.W. Rinzler about the property.
Star Wars Weekends at Disney's Hollywood Studios in Orlando, FL are very popular and for the weekend of June 7-9 the even might be even more popular. Lando himself, Billy Dee Williams, will be on hand. Read more at DisneyParks.Amazon (via The Force.net) has an image of a brand new Star Wars book called Art Concept. It's out in October.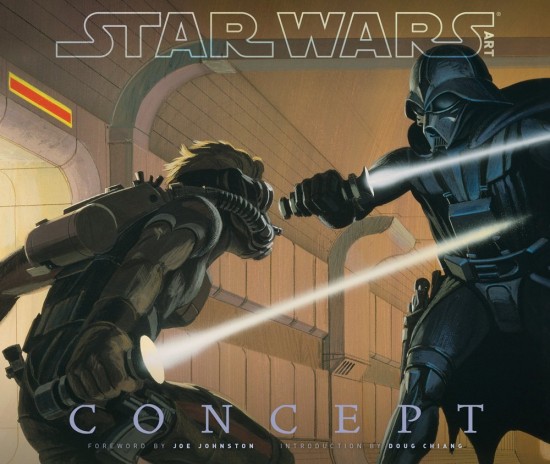 The Los Angeles Times reports the recent layoffs at Disney are, unsurprisingly, directly tied to the purchases of Lucasfilm and Marvel. Meanwhile, one of the major company changes, cutting the video game division Lucasarts, is detailed over on Kotaku. They've written a piece about what it was like working there in the final days.
Darth Vader isn't happy he lost an official Star Wars sponsored character tournament, as seen in this funny video.
Finally, the Academy of Motion Picture Arts and Sciences tweeted the below image of an in-development movie museum...which looks like it has its own Death Star.
This is what our upcoming Academy Museum is going to look like. Only bigger. Much bigger. pic.twitter.com/lkTMi39Ze4

— The Academy (@TheAcademy) April 11, 2013