'The Way, Way Back' Trailer: Steve Carell, Toni Collette And Sam Rockwell Shape A Boy's Summer Vacation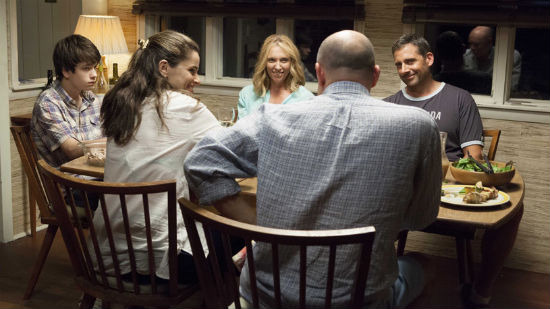 The cast of this summer's independent comedy The Way, Way Back is insane: Steve Carell, Toni Collette, Allison Janney, AnnaSophia Robb, Sam Rockwell, Maya Rudolph, Amanda Peet, and Rob Corddry... and none of them are the star of the film. That honor goes to Liam James, a young actor best known for roles on The Killing and Psych. He's the main character in this sweet and hilarious coming of age comedy from Oscar-winners Nat Faxon & Jim Rash.
Faxon and Rash won an Oscar for writing The Descendants, but you likely know them best as Ben from Ben & Kate and Dean Pelton from Community. They pop up in this film too, which they wrote, and directed. The movie opens July 5. The first trailer is below.
Thanks to Apple.com for the trailer.
The Way, Way Back got a standing ovation at Sundance and was quickly picked up by Fox Searchlight. That's a perfect place to be, because it really does feel like a film in the mold of Little Miss Sunshine and Juno, as the trailer suggests. I don't think it's as good as those Best Picture nominees, but it's close. Here's part of my review:
This isn't The Descendants, mind you. It's a very straightforward coming of age story about a boy named Duncan (Liam James) who is forced to spend the summer at the beach with his divorced mom (Collette) and her new boyfriend (Carell).
What starts off as torture for Duncan slowly gets better as he becomes friendly with the girl next door (Robb) and gets a job at a water park run by Sam Rockwell. Rockwell and Allison Janney, as a perpetually drunk neighbor, steal the movie from the rest of this great cast. Each scene featuring either actor is chock full of laughs. The rest of the movie doesn't fare poorly, either.
Seeing Steve Carell play against type is great, the Massachusetts beach community setting is warm and inviting. The writing is so strong that a few one-note characters still come off as entertaining. The main issue with the film is that, at it's heart, it's about a young nerd becoming a man. And we've seen this movie before. We rarely get to see it with starts this big but it still feel familiar, even with the strong cast, script and direction.
The Way, Way Back opens July 5.