'Filth' Red Band Trailer: James McAvoy Gets Down And Dirty In Irvine Welsh Adaptation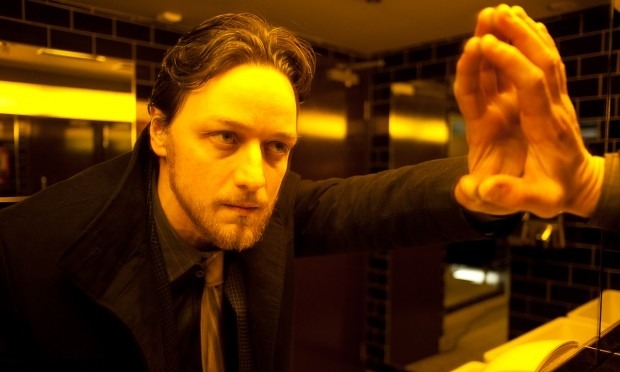 James McAvoy wasn't onscreen much in 2012, but 2013 will be a completely different story. The Scottish actor has already hit theaters in Welcome to the Punch and Danny Boyle's Trance, and he still has the two-parter The Disappearance of Eleanor Rigby: His and The Disappearance of Eleanor Rigby: Hers. Today we have a rather NSFW trailer for yet another of McAvoy's upcoming releases, the Irvine Welsh adaptation Filth.
Directed by Jon S. Baird, the dark comedy features a bleary, bloated McAvoy as a corrupt cop trying to solve a brutal murder while clawing his way to the top. He'll stop at nothing to ruin anyone who stands in his way, but his biggest issue is his own faltering grip on reality. Jamie Bell, Imogen Poots, Eddie Marsan, and Jim Broadbent also star. Check out the video after the jump.
I don't know if "fun" is the word I'd use to describe the trailer — McAvoy's Bruce is too rotten and pathetic to look like much of a good time — but Filth definitely looks compelling. In addition to its colorful, talented cast of characters, Filth also boasts a score by Clint Mansell, who explored similarly drug-fueled territory in Requiem for a Dream.
Filth has no release date yet, but is expected to open in the U.K. (and hopefully also the U.S.) around fall.
Scheming Bruce Robertson (James McAvoy), a bigoted and corrupt policeman, is in line for a promotion and will stop at nothing to get what he wants. Enlisted to solve a brutal murder and threatened by the aspirations of his colleagues, including Ray Lennox (Jamie Bell), Bruce sets about ensuring their ruin, right under the nose of unwitting Chief Inspector Toal. As he turns his colleagues against one another by stealing their wives and exposing their secrets, Bruce starts to lose himself in a web of deceit that he can no longer control. His past is slowly catching up with him, and a missing wife, a crippling drug habit and suspicious colleagues start to take their toll on his sanity. The question is: can he keep his grip on reality long enough to disentangle himself from the filth?