'The Fast And The Furious' Cinematographer To Helm 'Point Break' Remake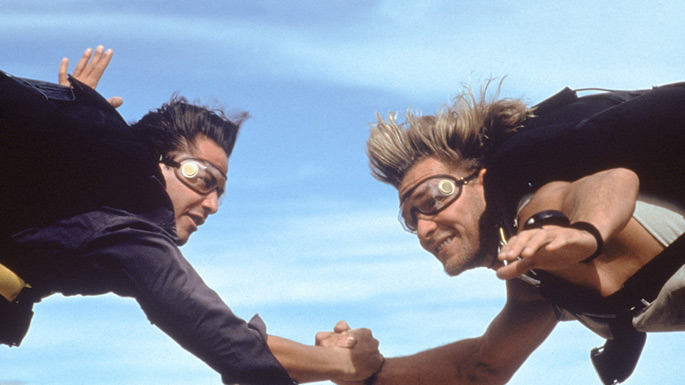 Though it eventually blossomed into a franchise with its own intricate mythology, the original The Fast and the Furious looked like nothing so much as Point Break with cars. So now that an actual Point Break remake is on the way, producers have naturally turned to the 2001 vehicle-based thriller for some guidance.
Alcon Entertainment has just tapped Fast and the Furious DP Ericson Core to direct the new film, which has been in the works for a couple of years now. Hit the jump for some more details.
While the first Point Break starred Keanu Reeves as a brash young FBI agent who infiltrates the world of surfing to take down a band of robbers (led by Patrick Swayze), the do-over will move the basics of that plot to the exciting world of international extreme sports. As I understand it, "point break" is specifically a surfing term, so I don't know that it'll make much sense in that context. On the other hand, changing the title would probably undermine the name-recognition appeal of a remake.
Wimmer has some experience with reworking old properties, as he worked on the Total Recall remake that hit last year. Core made his feature directorial debut in 2006 with the Mark Wahlberg football drama Invincible, but he's better known as a cinematographer. His credits include Daredevil and Payback.
Bigelow's Point Break is an odd duck in that it's both so-bad-it's-good and genuinely good. The plotline is absurd and Reeves is hilariously wooden, but it all works better than it should thanks to Bigelow's deft direction. I have severe doubts that a remake would be able to fully replicate the charms of the original. Still, Alcon and Core could potentially do something fun with that premise. You know, like Core helped do with The Fast and the Furious.
The new Point Break is on track to shoot toward the end of this year, which means we should be hearing about casting over the next several months. No release date has been set.