Edgar Wright Filmed One Shot For Another 2013 Summer Movie; Which Was It?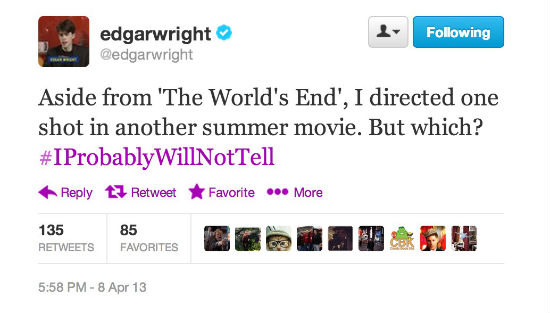 It all started with a tweet. That tweet above, to be specific. Monday afternoon director Edgar Wright tweeted that "Aside from The World's End, I directed one shot in another summer movie. But which?" with the hashtag "I probably will not tell." Twelve minutes later, he tweeted "Yeah. Some of you got it right."
Many more people have replied to Wright after that 12 minutes but, looking just at the first few tweets there's one film that's mentioned way more than anything else: Iron Man 3. Which would make sense. Wright is set to next make Ant-Man, a Marvel movie, and a cameo would be very cool. Alas, Wright "exclusively revealed" that his shot is NOT in Iron Man 3. Back to the guessing game.
So, what movie could it be? Let's speculate below.
The most obvious guess would be Star Trek Into Darkness. Wright is close friends (and working partners) with Simon Pegg, one of the film's stars. It's a distinct possibility he visited Pegg on set and J.J. Abrams thought it would a fun thing to have Wright do a shot. Plus, Wright had tweeted an image of Benedict Cumberbatch in the editing suite for The World's End. Old pals reminiscing?
Kick-Ass 2 was also shooting in London around the same time Wright was shooting The World's End. It's a comic book movie, Wright is going to do a comic book movie next, maybe Jeff Wadlow let him have some practice.
But it could also be Pacific Rim. We know Guillermo del Toro and Wright are friendly, and Wright shot Scott Pilgrim vs. the World at the same Toronto studio, Pinewood Toronto, that Pacific Rim used. Maybe he popped in to grab a Sex Bob-Omb shirt he forgot and grabbed the camera for a minute.
Or maybe it's something totally out of the box, like Monsters University. Wright will be working with Disney for Ant-Man and Pixar is owned by Disney. Maybe Dan Scanlon called Wright...two or three years ago...when he would have needed to be there to actually direct a shot in an animated movie...and...
Oh screw it. We don't know, we "probably" will never know, but it's fun to speculate about. Which film do you think will feature one shot directed by Edgar Wright?
The World's End, for which Wright shot all the shots, opens August 23.