'Carrie' Trailer: Kimberly Peirce Gives Chloë Grace Moretz The Prom From Hell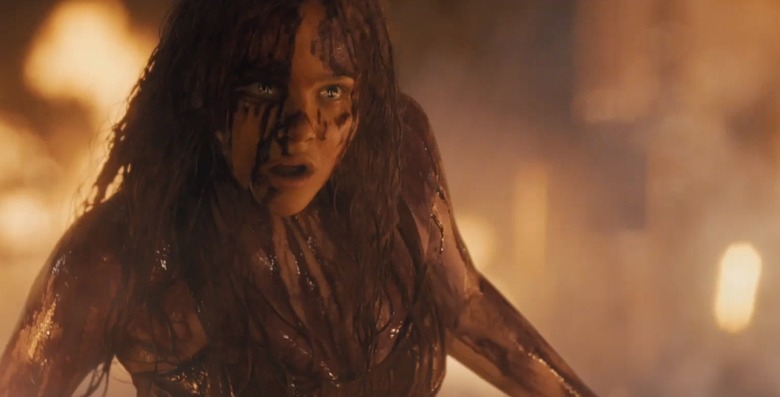 A couple generations after Brian de Palma first brought it to the big screen, Stephen King's Carrie is getting a new cinematic interpretation this fall by director Kimberly Peirce. The first teaser trailer hit all the way back last year, and we've had plenty of blood-soaked posters since then, but now we finally have a full-length trailer that offers a better idea of Peirce's updated vision.
This version of the tale stars Chloë Grace Moretz as the telekinetic teen, and Julianne Moore as her unhinged religious mother. Gabriella Wilde, Portia Doubleday, Ansel Elgort, Alex Russell, and Judy Greer also appear. Hit the jump to watch the trailer.
The promo definitely features some scenes that might be considered spoilers, if it weren't for the fact that everyone on Earth already knows how Carrie ends. Seeing bits of the whole plotline gives us a better chance to see how Peirce's film differs from de Palma's — for one thing, the ending looks closer to that of King's original novel — but it also doesn't seem to leave much room for surprise in the theater.
I'm more concerned, though, about Moretz's portrayal of Carrie. Sissy Spacek brought a cringing awkwardness to the role in 1976, but Moretz looks more comfortable in her skin — perhaps too comfortable. Still, she's a talented young actress and I'm looking forward to seeing what she and Moore can do together.
Carrie storms into theaters October 18.
The quiet suburb of Chamberlain, Maine is home to the deeply religious and conservative Margaret White (Moore) and her daughter Carrie (Moretz). Carrie is a sweet but meek outcast whom Margaret has sheltered from society. Gym teacher Miss Desjardin (Greer) tries in vain to protect Carrie from local mean girls led by the popular and haughty Chris Hargenson (Portia Doubleday, Youth in Revolt), but only Chris' best friend, Sue Snell (Gabriella Wilde, The Three Musketeers), regrets their actions. In an effort to make amends, Sue asks her boyfriend, high school heartthrob Tommy Ross (newcomer Ansel Elgort), to take Carrie to prom. Pushed to the limit by her peers at the dance, Carrie unleashes telekinetic havoc.