'Anchorman' Sequel Adds Another A-List Cameo, Harrison Ford Comments On His Role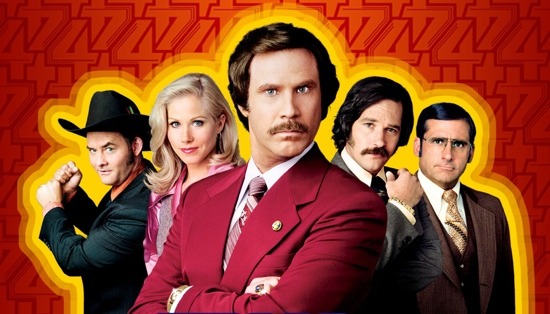 Anchorman: The Legend Continues has an extensive lineup of celebrity cameos that ranges from the fairly obvious (John C. Reilly) to the nearly out of left field (Harrison Ford). But it's not done adding people yet.
A new report indicates that a very high-profile A-lister has agreed to lend her talents to the film. Her role hasn't been revealed at this time, but let's hope she has a less strange experience than Ford did with, as he puts it, "What's-His-Name and the applesauce girl." After the jump, find out who the latest Anchorman cast member is and read more of Ford's comments about the shoot.
Ford's (joking?) inability to remember his co-stars' names could be chalked up to the fact that he wasn't on set very long. "It'd be easy enough to cut out [my role], I don't think it's critical," he said. Ford's character has previously been described as "a legendary newscaster a la Tom Brokaw," and has been spotted in a dark suit and glasses on set. See the ET video interview for yourself below.
On the flip side, Anchorman's latest additions may be more used to wacky comic antics. THR reports that Nicole Kidman, recently seen in Adam Sandler's Just Go With It, will make an uncredited cameo in the film, while Luke Wilson and Vince Vaughn, who had small roles in the first Anchorman, are set to return. It's unclear whether Wilson and Vaughn reprise their roles as fellow anchormen Frank Vitchard and Wes Mantooth (respectively), or step into entirely new roles.
The trio join franchise newcomers Greg Kinnear, Josh Lawson, Meagan Good, Dylan Baker, Kristen Wiig, James Marsden, and John C. Reilly, and returning stars Ferrell, Applegate, Steve Carell, David Koechner, and Paul Rudd. Anchorman: The Legend Continues opens December 20.