'The Great Gatsby' Trailer: Leonardo DiCaprio Is The Ultimate Self-Made Man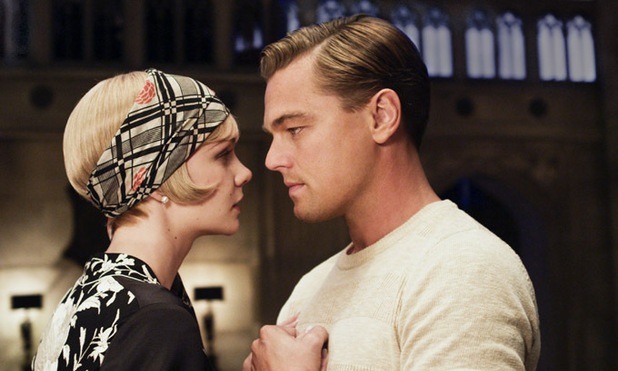 A week's worth of new posters have paved the way for The Great Gatsby's latest trailer, which shows off quite a bit of new footage. In contrast to the earlier trailers, which played up the heady party atmosphere of the 1920s, this one emphasizes the fiery passions that drive the Baz Luhrmann-directed tale. Specifically, it delves into the mysterious Gatsby (Leonardo DiCaprio), the tragic embodiment of the American Dream.
To complement the shift in focus, the trailer also samples some different tunes from the soundtrack, including a haunting cover of Amy Winehouse's "Back to Black" by Beyoncé and André 3000. Check it out after the jump.
Luhrmann has a knack with excess, whether it be visual or emotional. There are moments in this trailer that might read as cheesy or overwrought in most circumstances (I'm thinking in particular of Daisy snapping her strand of pearls), but somehow seem to work in this context. It's also interesting to see how Luhrmann portrays Gatsby's rough beginnings, though his approach looks a bit literal for my taste.
Carey Mulligan, Tobey Maguire, Joel Edgerton, Isla Fisher, and Elizabeth Debicki round out the cast. The Great Gatsby opens May 10.
"The Great Gatsby" follows Fitzgerald-like, would-be writer Nick Carraway (Tobey Maguire) as he leaves the Midwest and comes to New York City in the spring of 1922, an era of loosening morals, glittering jazz and bootleg kings. Chasing his own American Dream, Nick lands next door to a mysterious, party-giving millionaire, Jay Gatsby (Leonardo DiCaprio) and across the bay from his cousin, Daisy (Carey Mulligan) and her philandering, blue-blooded husband, Tom Buchanan (Joel Edgerton). It is thus that Nick is drawn into the captivating world of the super rich, their illusions, loves and deceits. As Nick bears witness, within and without the world he inhabits, he pens a tale of impossible love, incorruptible dreams and high-octane tragedy, and holds a mirror to our own modern times and struggles.