Exclusive: Dave Perillo's 'Dancing Homer' Poster From 'The Simpsons'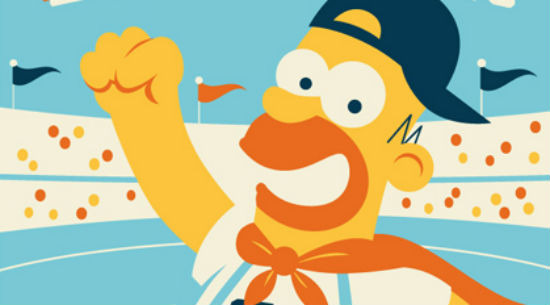 The Simpsons has long been a holy grail for art galleries and poster houses. It's a franchise many of us have grown up with, loved, and perhaps even been obsessed with at some point. That makes it a natural subject for pop-culture artists.
On that note, /Film is proud and excited to reveal the first in Acme Archives' ongoing series of officially licensed Simpsons screenprints: Dancin' Homer by Dave Perillo. It's a 12 x 24 print in an edition of 250, and it goes on sale Tuesday April 9 at a random time. Check out the full piece below, along with a short interview with the artist.
Here's Dave Perillo's Dancin' Homer.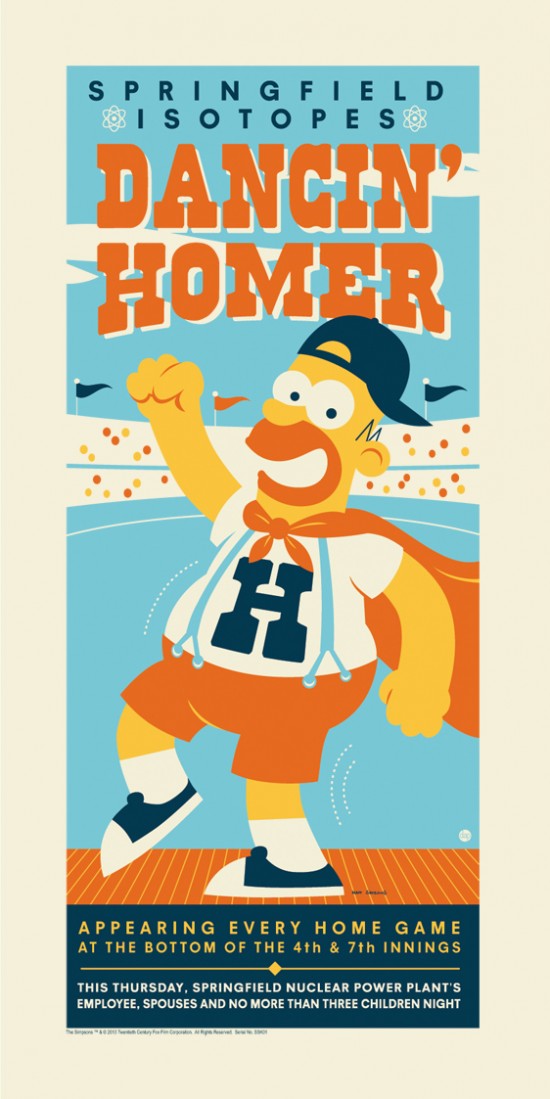 This poster, the first in an ongoing Simpsons series, will go on sale Tuesday April 9 by following @AcmeArchives on Twitter.
We spoke to Perillo about this piece and what we might see next. Here's what he had to say:
/Film: The world of The Simpsons is so vast and expansive. Was Dancing Homer your first choice and what is it about the episode that sticks with you?
Dave Perillo: Had to do Homer J. Simpson first, he's the patriarch of the family and really the most important character of the series. I thought it would be great to represent him as one of his most memorable personas, "Dancin' Homer". It was one of the best episodes of "The Simpsons" and really showed the epic success/fame to the ultimate flop of Homer which ends up being a recurring theme throughout the series.
You have a distinct style and so do The Simpsons. How did you go about balancing that? Making it recognizably both a Simpsons and Perillo piece?
I really wanted to preserve the look of "The Simpsons" so I think that really shines across more than my typical style. My color palette and idea of doing it as a kinda retro advertisment for Dancin' Homer helps add my flair to it.
What other iconic Simpsons characters, locations or episodes would you like to immortalize and do you think you might get that chance in the future?
Way too many to choose and can't reveal too much, but I definitely wanna keep exploring the Simpsons universe and expand on what other advertisements you might actually come across if you lived in Springfield.
Any particularly interesting or exciting stories behind this piece or was it a smooth job?
I gotta say it is an incredible thrill and honor having my name along side of Matt Groening's signature and to work on, for Acme Archives, official licensed art for such an iconic show & characters. One thing for me about "The Simpsons" is how long it's been a part of my life, it debuted when I was a sophmore in high school and has been there for over twenty years and over 500 episodes. There was a part in my high school yearbook when they asked what is one of your goals in life and I had written "to animate The Simpsons." Not exactly what has happened but, to me, if not better just as great.
Thanks to Perillo and Acme Archives for the info. Also, I didn't know this, but Acme's website has some superb original Simpson animation cels and art. Check those out here. Expensive but very cool.