'The Purge' Trailer: Hiding From The Monsters We've Created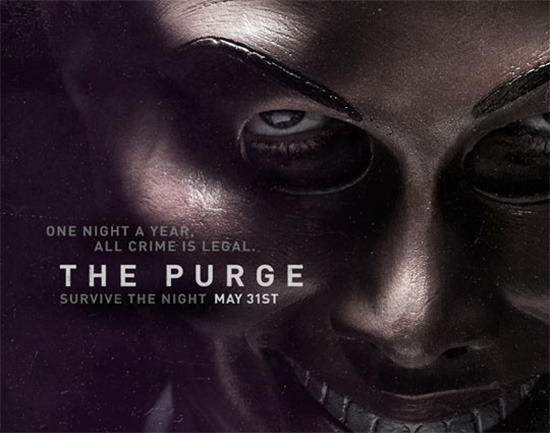 The Purge seems like an idea born out of a late night stoner discussion. "Dude, what if, like, there was one day every year where there were no laws? People could go crazy, and society would self-regulate, and normals would just have to hide."Jason Blum, who worked with Ethan Hawke on Sinister, also produced The Purge, which casts Hawke as a rich guy who takes refuge inside his fortress of a home during one day of the year where all laws and emergency services are suspended. The film has the edge of a home invasion thriller, with masks recalling The Strangers and You're Next even as they also conjure up Guy Fawkes. But there's a bit of a speculative bent thanks to the supposed effect of the purge — American society, stripped of all the elements that kill each other off during the lawless day, is stronger than ever.
So the wealthy Hawke and his family are hiding at home, but their daughter gives refuge to a man afraid for his life. And then the people who want to kill him come calling. What happens next? Check out the trailer below.
So we continue to see the economic collapse infiltrate genre film as a right-leaning concept (America strengthened by a violent purge of social elements) is turned into a horror film by the generally left-leaning movie industry. Hawke's character is obviously a conservative, and so too seem to be the violent Young Republicans / American Psychos who ring his bell — they're so well dressed and polite! (Aside from the threat of violence.) How does this all end up? With Hawke brought low, I'd imagine, and the system somehow turned on itself. We'll see what happens when The Purge opens on May 31st.
If on one night every year, you could commit any crime without facing consequences, what would you do? In The Purge, a speculative thriller that follows one family over the course of a single night, four people will be tested to see how far they will go to protect themselves when the vicious outside world breaks into their home. In an America wracked by crime and overcrowded prisons, the government has sanctioned an annual 12-hour period in which any and all criminal activity—including murder—becomes legal. The police can't be called. Hospitals suspend help. It's one night when the citizenry regulates itself without thought of punishment. On this night plagued by violence and an epidemic of crime, one family wrestles with the decision of who they will become when a stranger comes knocking. When an intruder breaks into James Sandin's (Ethan Hawke) gated community during the yearly lockdown, he begins a sequence of events that threatens to tear a family apart. Now, it is up to James, his wife, Mary (Lena Headey), and their kids to make it through the night without turning into the monsters from whom they hide.