'The Butler' Trailer: We Have No Tolerance For Politics At The White House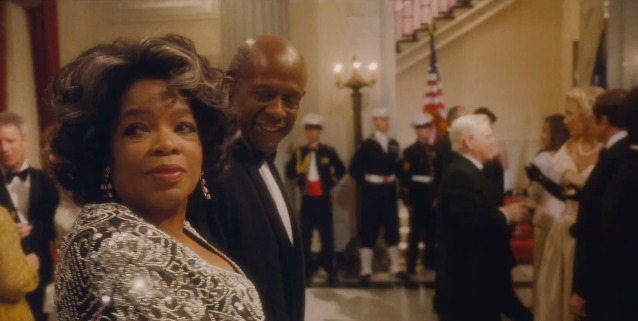 Left to his own devices Lee Daniels makes films that are eccentric and sometimes just way the hell out there. (The Paperboy) But he has called his newest film, The Butler, "a big compromise" and explained that the film might be "the closest I will come to as a work-for-hire." Does that mean that, on the relative scale of whackadoo films, The Butler will be far closer to "normal" than anything else he's made?
Hard to say at this point, but the first trailer suggests that there's some weird stuff going on here. There's the parade of cameo players appearing as a string of US Presidents. Among them is John Cusack's turn as Richard Nixon, which is... interesting. Then there's Alex Pettyfer playing an uber-douchebag cotton farm overseer, and the digital effects and makeup that shave a few decades off lead Forest Whitaker in some scenes.
Whitaker plays Cecil Gaines, who served several different President as the White House butler, and the trailer suggests the film traces his entire life story, using it to frame the sweep of the civil rights movement. It's a good story, but this trailer looks a lot like a parody that might show up on SNL. So we'll see — maybe The Butler will be just as crazy as the rest of Daniels' work.
I'm still laughing about the perversity behind casting Jane Fonda, still hated by segments of multiple generations for her actions during the Vietnam War, as conservative heroine Nancy Reagan. I don't care about either Fonda or Reagan as individuals or cultural figures, but the simple fact of using that casting decision as a giant flip of the bird is entertaining.
The Butler opens on October 18. Yahoo has the trailer.
THE BUTLER tells the story of a White House butler who served eight American presidents over three decades. The film traces the dramatic changes that swept American society during this time, from the civil rights movement to Vietnam and beyond, and how those changes affected this man's life and family.