'A Single Shot' Trailer: Sam Rockwell Hunts To Live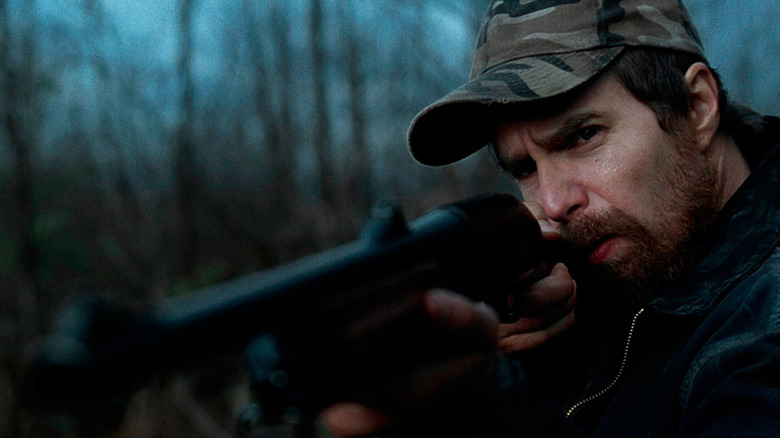 We may receive a commission on purchases made from links.
The big recent roles from Sam Rockwell have been comedic — think of his turn in Seven Psychopaths, his work in The Sitter, hell, even his Iron Man 2 performance had a comic tinge. And when audiences get a chance to see The Way Way Back later this year, they'll see a very endearing and funny turn from the actor.
A Single Shot appears to have only the smallest funny bone. It is an adaptation of a novel by Matthew F. Jones, in which a man (Rockwell) loses his family farm, and poaches game to survive. But things go bad when he takes aim at the wrong target. The trailer is very much in a sort of post-Malick mode, with a bit of dialogue setting the stage for a cascade of imagery backed by tense, insistent violins. It gives a sense of danger more than it conveys a full story.
The music in that piece, by the way, is a segment from 'Fratres' by the minimalist Estonian composer Arvo Pärt. The piece is among Pärt's best-known, and can be found recorded from a few different performances. I've got the Gil Shaham one, but I believe this is the one performed by Tasmin Little and Martin Roscoe.
A Single Shot will show at the Tribeca Film Festival, which offers this blurb:
A Single Shot brings together a wealth of indie stalwarts, including Sam Rockwell, William H. Macy, Melissa Leo and Jeffrey Wright, to paint a tense portrait of John Moon, a man attempting to win back his estranged family while desperately outrunning an accidental crime. Director David M. Rosenthal returns to the Festival with this ominously atmospheric and suspenseful backwoods tale of circumstance, based on Matthew F. Jones's 1996 novel. After the loss of his family farm, John Moon is a desperate man. A master hunter, his ability to poach game in-season or out is the only thing that stands between him and the soup kitchen line. Until Moon trespasses on the wrong land, hears a rustle in the brush, and fires a single fateful shot.