'Greetings From Tim Buckley' Trailer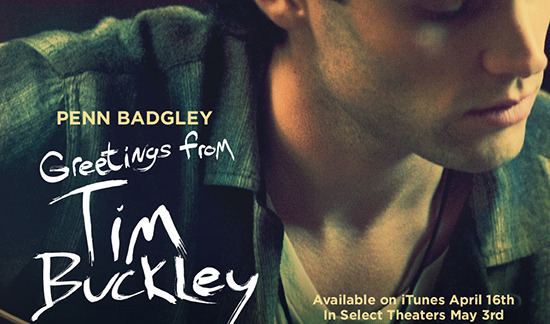 The first trailer we saw for Greetings From Tim Buckley, in which Penn Badgley acts and sings as the late musician Jeff Buckley, came in the wake of the film's TIFF premiere, and has since gone offline. Good thing there's now an official US trailer for you to check out.
Here, again, you can see Badgley's solid take on the role, as he seeks to capture the point in Buckley's life when he takes part in a benefit concert honoring his late father, Tim Buckley. Imogen Poots appears as the young woman who works for the organization putting on the benefit, and to whom Jeff Buckley has a strong attraction. This looks like a very similar trailer, but if you missed that first look last year, this is a good opportunity to give it a glance before the film hits digital platforms in a couple weeks.
Apple has the trailer. Greetings from Tim Buckley will be on VOD on April 16th, with a limited theatrical release on May 3rd.
In 1991, a young Jeff Buckley rehearses for his public singing debut at a Brooklyn tribute show for his father, the late folk singer Tim Buckley. Struggling with the legacy of a man he barely knew, Jeff forms a friendship with an enigmatic young woman (Imogen Poots) working at the show and begins to discover the powerful potential of his own musical voice. Greetings from Tim Buckley is filled with stirring musical performances and the memorable songs of a father and son who were each among the most beloved singer/songwriters of their respective generations. A presentation of Focus World, the alternative distribution label of Focus Features, and Tribeca Film.