Judy Greer Is Caeser's Love Interest In 'Dawn Of The Planet Of The Apes'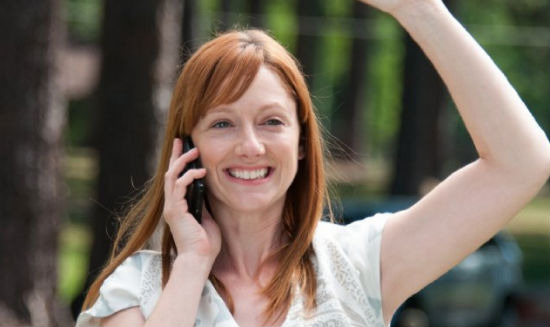 So far, director Matt Reeves has had no problem casting humans in Dawn of the Planet of the Apes. He's got Kodi Smit-McPhee, Jason Clarke, Keri Russell and Gary Oldman all set to oppose a rising power in Caeser (Andy Serkis) and his ape friends who are slowly but surely gaining control of the planet. Now we know one of the simian additions to the prequel sequel: character actress Judy Greer.
Greer, best known for her work in Arrested Development, The Descendants, and a slew of romantic comedies, will be playing the ape Cornelia. She'll be a possible love interest for Caesar, based on a character that was introduced in Rise of the Planet of the Apes and who will have a much bigger part this time out. Read Greer's geeking out over the opportunity below.
Vulture broke the news of Greer's casting, and got to talk to her about it.
For so long I haven't been able to say anything about it, so this is exciting! It's a very different kind of work than I'm used to, I'm not going to be wearing Manolo Blahniks in this one.
To play Cornelia, Greer will be wearing a motion capture suit and acting without words, against actors like Serkis. This is a big deal for several reasons. Professionally, it's a no brainer for the actress but personally, it has a deep meaning too:
I married a man who ... I'm gonna use the word obsessed. He is obsessed with Planet of the Apes. We had a chimp husband-and-wife cake topper at our wedding. At the cocktail hour, we played Planet of the Apes and Rise of the Planet of the Apes on two separate televisions in the bar area. And on the wedding gift I bought him, a vintage Rolex, I had it engraved, 'Ape shall not kill ape.' I was then told that, technically, it's 'Ape shall never kill ape,' but there wasn't enough space for engraving purposes.
Seems like a very, very worthy choice.
Dawn of the Planet of the Apes is set for release May 23, 2014.