First Look: The Crimson Typhoon In 'Pacific Rim,' And Sub-Orbital Gemini Armor From 'Iron Man 3'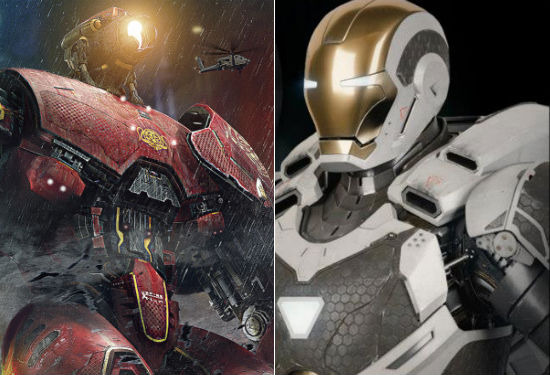 Two summer movies packed with lots of hardware have released brand new images. While it's good to see another machine created for Guillermo Del Toro to stand alongside other massive robots in Pacific Rim, the image from Iron Man 3 is a lot more revealing.
In fact, a few months ago, when an image of this armor made its way online, we were asked to take it down. A few days later, I asked Marvel President Kevin Feige about it and he denied it existed. And yet, here it is, the official reveal of the Mark 39, Sub-Orbital Gemini Armor. The probable uses of this suit should be considered a major spoiler, but we'll talk about it below along with the Crimson Typhoon Jaeger from Pacific Rim.
Thanks to the Iron Man and Pacific Rim Facebooks for these images.
The Pacific Rim poster is awesome. Crimson Typhoon, the Chinese Jaeger, looks great, but let's get to Iron Man. SPOILERS FOLLOW.
On January 28, I was among those posting images of a Mezco toy called the "Deep Space Suit," and surmised one of the reasons Tony Stark would need such a suit would be to link Iron Man 3 with Guardians of the Galaxy. Other outlets later reported that's what happens in the film and Disney/Mezco requested we remove the images.Mere days later, I asked Kevin Feige about it (though I couldn't run the quote until March):/Film: Can you comment on the Deep Space Suit photos that have leaked?
Kevin Feige: Well I would say that I've owned a number of "Jungle Attack" Batmans in my time and I don't remember any jungle attack Batman sequences, so.
And now, on the official Facebook page, there it is. A new name, but the same suit the head of the studio denied existed in the film. I completely understand a studio managing the release of information. Maybe five months out was too early to reveal this aspect of the film. Yet time and time again sites like ours post information and studios deny it, only for it to be revealed as true. Again, I can't blame them, but this is just a lesson that we all have to understand the game. Sometimes rumors and speculation are crap but, sometimes, a denial doesn't mean it isn't true. It means they aren't prepared to discuss it honestly yet.
Even though this suit has now been revealed, it's very doubtful anyone would confirm how it fits into the movie specifically until May 3. If it is the key to a major spoiler, though, why reveal it at all?
Anyway, enough ranting. Both armors are awesome and I'm particularly excited to see the Gemini play out on screen. What about you?