Bookmark This: See Our Full Guest Lineup And Watch Our FilmAid Broadcast Live On March 30th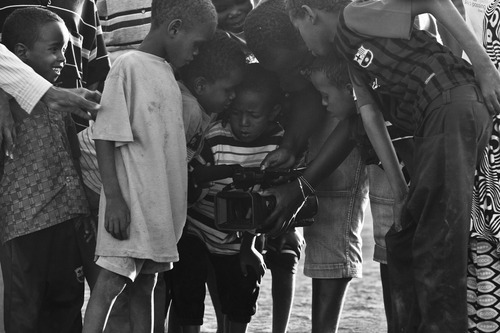 Update: The broadcast is now complete. Thanks to all our amazing guests who showed up, and thanks to all of you who listened in and donated!On Saturday, (March 30th), the /Filmcast will be broadcasting live for 10 hours, beginning at 9 AM Pacific, in support of FilmAid. You guys gave generously during our fundraiser; now it's our turn to deliver on the ultimate /Filmcast marathon.
If you bookmark this page, you should be able to see the live broadcast on Saturday morning when the appointed time arrives. We'll also be moving this post back to the top of slashfilm.com, so it'll be tough to miss. You can take a look at our amazing guest line-up below, and feel free to submit questions in the comments if you have them. You can also tweet and submit questions using the hashtag #SlashFilmAid. Again, many portions of this episode will be recorded and released later as a /Filmcast episode. In the meantime, if you do enjoy the podcast, please keep donating and supporting this great cause! 
Here are the guests who have committed to appearing on the podcast. Please note: due to the realities of scheduling, this schedule is subject to change drastically. In fact, I'd be pretty (pleasantly) surprised if it was still the same line-up at the end of the day on Saturday:
All times are PACIFIC9 AM – 10 AM: Writer/Director Rian Johnson10 AM – 11 AM: Writer/Director/Actor David Wain (with Scott Beggs from FilmSchoolRejects)11 AM – noon: Writer/Producer Damon Lindelofnoon – 1 PM: Director Bryan Singer and Director Jason Reitman1 PM – 2 PM: Writer C. Robert Cargill and Matt Singer from Indiewire2 PM – 2:30 PM: Director Jon Chu3 PM – 4 PM: Composer Jeremy Zuckerman (Republic City Dispatch podcast crossover)4 PM – 6:15 PM: Director Vincenzo Natali does a LIVE commentary of SPLICE on the air!6:15 PM – 7 PM: /Film staff and wrap up
It's also possible that a few other familiar /Filmcast faces may drop by throughout the day. Get psyched, and feel free to submit questions for any of our guests. I may use them during the broadcast!