'The Host' Trailer: Saoirse Ronan Faces Alien Invaders, Young Love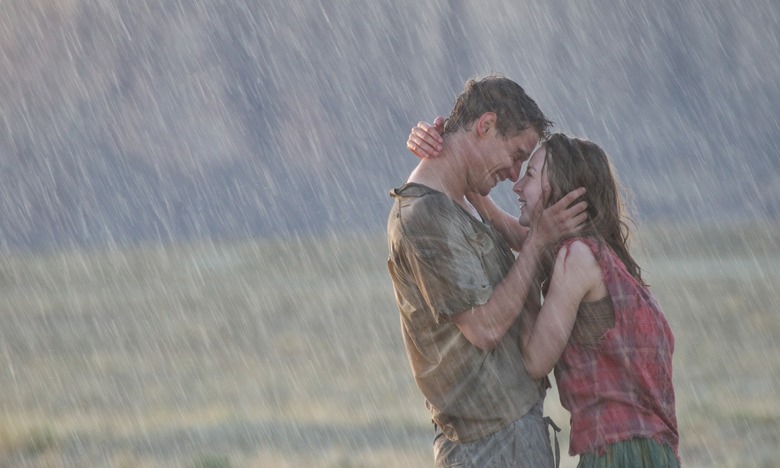 There's a segment of the population that will always turn out to see a movie advertised as being "based on the novel by Stephenie Meyer," no matter what, and another segment that will avoid that movie like the plague, no matter what. Meyer's first non-Twilight tale, the sci-fi romance The Host, doesn't look likely to change the minds of diehards in either group. But for the rest of the population, there's a new trailer to help them make up their minds.
Saoirse Ronan stars as Melanie Stryder, a young woman living on an Earth that's been taken over by aliens. When one of the invaders tries to take control of her mind, Melanie's consciousness tries to fight back. Max Irons and Jake Abel play her two handsome suitors, and Diane Kruger the leader of the extraterrestrials. Andrew Niccol directs. Watch the new video after the jump.
The trailer doesn't have a ton of new footage, but what's interesting is how the various promos for this movie play up totally different tones. The first trailer we got made it look like a teen love story along the lines of Twilight, while the second tried hard to emphasize the sci-fi action aspects of the plot.
This one does a better job of balancing the two elements, thanks in a large part to the bittersweet tune (The Cinematic Orchestra's "To Build a Home") that plays throughout. The romance takes priority over the action, but I wouldn't be surprised if that's true of the movie as well. As portrayed here, The Host looks like a post-apocalyptic love story. It still looks kinda sappy, but if that's how you like your romance I bet The Host will hit the spot.
The Host lands this Friday, March 29.
What if everything you love was taken from you in the blink of an eye? "The Host" is the next epic love story from the creator of the "Twilight Saga," worldwide bestselling author, Stephenie Meyer. When an unseen enemy threatens mankind by taking over their bodies and erasing their memories, Melanie Stryder (Saoirse Ronan) will risk everything to protect the people she cares most about — Jared (Max Irons), Ian (Jake Abel), her brother Jamie (Chandler Canterbury) and her Uncle Jeb (William Hurt) , proving that love can conquer all in a dangerous new world.