Two New Suits Revealed From 'Iron Man 3'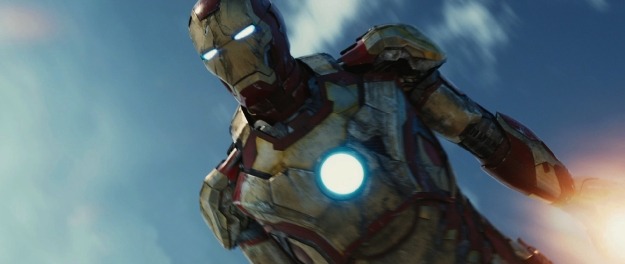 The latest trailer for Iron Man 3 confirmed a rumor we'd been hearing for some time: That the reason Tony Stark (Robert Downey Jr.) goes from the Mark VII in The Avengers to the Mark XLVII in Iron Man 3 is because he created 40 suits in between. We'll probably see all (or most) of them in the film's finale, and leading up to that, the film's official Facebook has begun to reveal close-ups of the in-between armors.
So far, they've unlocked the Mark XXXIII, an "Enhanced Energy Suit" that Stark called "Silver Centurion" along with the Mark XL, a "Hyper Velocity Suit" called "Shotgun." Check them out below.
Thanks to Facebook (via SHH) for these images. I have a feeling there will be more reveals of this and, if that happens, we'll update this post.
Iron Man 3, co-written and directed by Shane Black, starring Robert Downey Jr, Don Cheadle, Jon Favreau, Ben Kingsley, Guy Pearce, Rebecca Hall and James Badge Dale, opens May 3.
Marvel's "Iron Man 3" pits brash-but-brilliant industrialist Tony Stark/Iron Man against an enemy whose reach knows no bounds. When Stark finds his personal world destroyed at his enemy's hands, he embarks on a harrowing quest to find those responsible. This journey, at every turn, will test his mettle. With his back against the wall, Stark is left to survive by his own devices, relying on his ingenuity and instincts to protect those closest to him. As he fights his way back, Stark discovers the answer to the question that has secretly haunted him: does the man make the suit or does the suit make the man?