'Planes' Voice Cast Includes Julia Louis-Dreyfus, John Cleese And A 'Top Gun' Reunion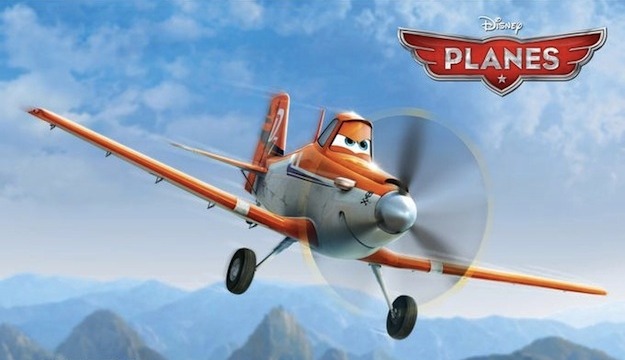 Disney's Cars spin-off Planes is getting a boost from a high-profile voice cast. Following Dane Cook's casting last month as protagonist Dusty, Julia Louis-Dreyfus, Teri Hatcher, John Cleese, and many more have signed on to fill the supporting cast. There's even a mini Top Gun reunion going on, with Val Kilmer and Anthony Edwards. Get details on and images of their characters after the jump.
Fortunately, Dusty will also have plenty of supporters to help him along the way. That includes his best friend, fuel truck Chug (Brad Garrett), forklift Dottie (Hatcher), and his WWII-era Corsair mentor Skipper (Stacy Keach). In addition, F-18 fighter jets Bravo and Echo (Kilmer and Edwards) are there to help out when Dusty gets into a situation over the Pacific.
The race will take Dusty to far-off locales including Iceland, Germany, India, and Mexico, but it begins and ends in New York, the home base of Cars Racing Sports Network. Reporting on the event will be blimp Colin Cowling, voiced by ESPN host Colin Cowherd.  Cedric the Entertainer (as Leadbottom), Gabriel Iglesias (Ned and Zed), Carlos Alazraqui (El Chupacabra), Priyanka Chopra (Ishani), and Sinbad (Roper) round out the rest of the cast.
Check out the stars' CG counterparts in the gallery below, via USA Today.
Planes flies into theaters August 9.
From high above the world of "Cars," flies "Planes," Disney's upcoming animated action-packed comedic adventure starring Dusty, a big-hearted, fast-flying crop duster who dreams of competing in the most exhilarating around-the-world air race in history. There's only a couple of not-so-small problems – Dusty is not exactly built for racing and he also happens to be afraid of heights.
Despite his fear and with encouragement from his mentor, a naval aviator named Skipper, Dusty narrowly qualifies for the big competition. Dusty's sportsmanship and speed begin to rattle the defending champ of the race circuit, Ripslinger, who will stop at nothing to see Dusty fail.
When disaster strikes during the climax of the final race, Dusty's courage is put to the ultimate test. With the support of friends old and new, Dusty reaches heights he never dreamed possible and in the process, gives a spellbound world the inspiration to soar.