'The Wolverine' Gets A 20-Second Teaser And A Motion Poster [Updated With More Posters]
The Wolverine's first real trailer drops this week, and its marketing team is milking that for all it's worth. Yesterday, we got our very first taste of footage thanks to a 6-second Vine video posted by director James Mangold. Today, we have an "extended" teaser for the trailer that clocks in at 20 seconds. Which I guess makes yesterday's clip the teaser for the teaser for the trailer.
In addition, there's a new motion poster that should help wash away some of the bad taste left behind by the last two non-motion ones. Check it all out after the jump.
Update: Two more poster variations have been revealed and are below.
The teaser begins with a moment we saw in the motion poster released yesterday, but the other 18 or so seconds are new. Aside from Wolverine, we get to see bits of the Silver Samurai (Will Yun Lee), who drops some hints about how Wolverine's past could factor into the plotline. But it's really Rila Fukushima's Yukio that gets to show off here.
The new motion poster, however, shifts the focus back to just a grim, solitary (and shirtless... always shirtless) Wolverine. See it below via Facebook.
It's not the most original poster I've ever seen, but Wolverine looks appropriately badass and that's good enough for now. And it's definitely much better than the two terrible ones we got yesterday morning. The sooner we can forget about those, the better.
Update: Here are a static version of the motion poster above, and a motion version of one of the images released last week.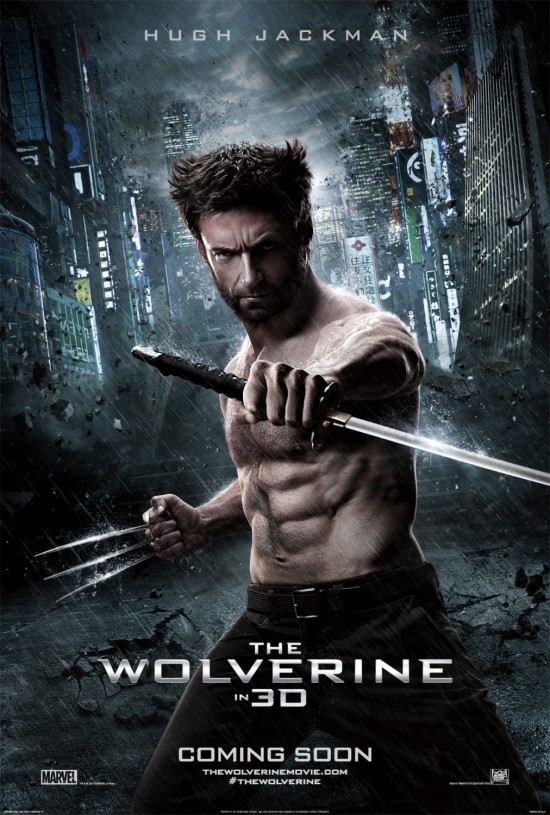 Tao Okamoto, Will Yun Lee, Svetlana Khodchenkova, Hiroyuki Sanada, Hal Yamanouchi, and Brian Tee also star in The Wolverine. The first trailer hits this week, and the movie opens July 26.
Based on the celebrated comic book arc, this epic action-adventure takes Wolverine, the most iconic character of the X-Men universe, to modern day Japan. Out of his depth in an unknown world he faces his ultimate nemesis in a life-or-death battle that will leave him forever changed. Vulnerable for the first time and pushed to his physical and emotional limits, he confronts not only lethal samurai steel but also his inner struggle against his own immortality, emerging more powerful than we have ever seen him before.