Adam Sandler And Drew Barrymore Reunite With 'Wedding Singer' Director For 'Blended'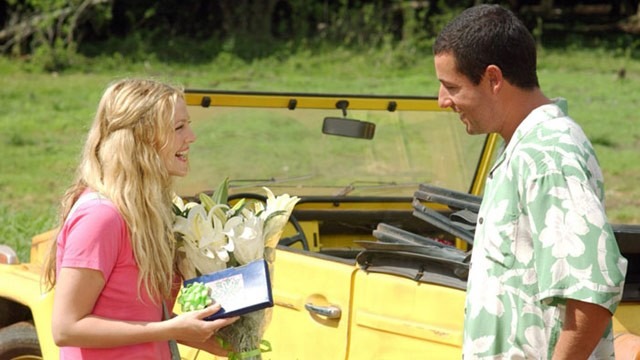 Adam Sandler and Drew Barrymore are teaming up a third time in the film Blended, a romantic comedy to follow The Wedding Singer and Fifty First Dates. (No relation between the films.)
A couple months ago we heard that a reunion of the two might be Sandler's next movie. Now the family romantic comedy — about an awkward couple that ends up on a family vacation together in Africa — appears to be going forward with a script from Ivan Menchell and Claire Sera, revisions from Sandler and Tim Herlihy, and The Waterboy and The Wedding Singer director Frank Coraci behind the camera. But the story specifics suggest something a bit different from what we're likely to get from the movie.
Moviehole offers the film's story:
Recently divorced mother of two boys, LAUREN REYNOLDS, and widowed father of three girls, JIM FRIEDMAN, have a disastrous blind date that puts them off dating for the foreseeable future. However, when the two purchase a discount "Familymoon" vacation from Lauren's best friend and business partner, JEN, they wind up at an African resort with their kids in tow. Initially acrimonious, their relationship skews, gradually and irresistibly, towards romance...Producer is committed to diverse, inclusive casting. Submissions for nondescript roles will be accepted for all performers, regardless of age, sex, ethnicity, or disability, race, color, national origin, sexual orientation or gender identity.
That's a slight expansion of the logline we had when the first hint of the movie came about. The fact that the film takes place in Africa suggests some meaning to the title Blended that aren't really reflected in that plot description, however. When I hear the title, and that location and plot, I expect something that factors in race that casting Sandler and Barrymore doesn't suggest. We'll see what the movie has in store.
The site also gives some character breakdowns; I cut out some explicit spoiler info from this character lineup, but obviously if you don't want to know much about the film at this point, avoid reading the quoted blocks below.
Brendan is 13-14 years old, he's Lauren's son. "He's a gangly, tough, working-class, rebellious kid "caught in the quicksand between boy and man."", say the casting notes. "Also still hurting from his parents' divorce, Brendan is delighted to go along on the African vacation — but not so thrilled to see the growing attraction between his mom and Jim. Brendan is initially creeped out by Jim's daughter, Sophie, a tomboy who rubs him the wrong way. But Sophie's also an excellent gamer, and during the voyage, the two find themselves bonding in a close new friendship that bodes well for their soon-to-be "blended" families."
Tyler, 9, Lauren's youngest son is "a wild, hyperactive kid who is always getting into hot water. Working-class and tough like his brother, yet he is deeply hurt by his father's neglect, Tyler is always hoping against hope that his dad will show up for his baseball games — but without a guy to help him toss a ball around, Tyler's a disaster at the sport. Later, while on the vacation, he bonds closely with Jim, a natural athlete who shows Tyler the ropes of baseball — and proves a vital male role model to his new young friend."
Ginger is "a super-hot Asian trophy wife, who speaks with a thick Asian accent. She's very optimistic and hopeful and isn't phased by much, not even her new stepson's coldness to her. Always one to be positive, Ginger thinks everything is "romantic," her word of choice. She's up for anything, from paragliding to couples' massage, which makes her almost uncontrollably "hot".
Blended will shoot in Georgia and South Africa starting May 15.