TV Bits: 'Game Of Thrones', 'Mad Men', 'Breaking Bad', 'Homeland', 'Hannibal', 'Cougar Town', Louis CK, Eli Roth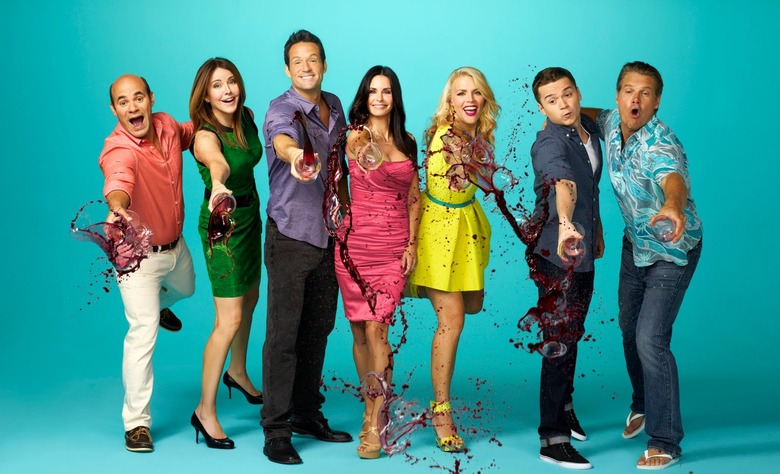 It's gonna be a great spring for TV lovers, with the returns of Game of Thrones and Mad Men just around the corner and Louis CK's new standup special waiting in the wings. Watch trailers for all three after the jump. Also:
Damian Lewis talks Carrie and Brody's future
Look for cameos and references in Hannibal
Seth Green also joins Seth MacFarlane's pilot
Will Seth Meyers replace Jimmy Fallon?
Cougar Town gets renewed for a fifth season
TNT sets a return date for Falling Skies
Mattel is working on UNO: The Game Show
Bryan Cranston's Breaking Bad script gets stolen
See new images from Eli Roth's Hemlock Grove
Watch the first 14 minutes of TNT's Defiance
I think Brody and Carrie are over. I think it's over. I don't think those two can be together. Can you imagine them being married and bringing up kids? I don't think it would last long, would you? I think they'd be in the divorce courts very quickly. I don't think that's a story that has got many legs.
Lewis also revealed roughly how far along the upcoming third season is. "I know what's going to happen as far as Episode 6. That's all the writers know." Homeland returns September 29. [Digital Spy]
Bryan Fuller's Hannibal brings back several characters and plot points from the Thomas Harris mythos, and you may notice nods to even more if you pay close attention. Actor Mads Mikkelsen, who plays Hannibal Lecter, revealed that Fuller likes to sprinkle the show with cameos and hints.
I think Bryan [Fuller] is doing that constantly, you will see that down the line. If you're a big fan, you will notice something in the set, something in the decoration... a little picture. Absolutely, a host of characters will pop up that is, "oh, couldn't that have been...?"
He's definitely been playing with that idea, and I think it's clever because at the same time it's embracing that, it's also detaching from it. It's becoming a game of his own. It's very smart.
Keep your eyes peeled when Hannibal debuts April 4. [Screen Crush]
For his first live-action TV series, Seth MacFarlane is casting a star from his first animated TV series. Seth Green, who voices Chris Griffin in Family Guy, has joined MacFarlane's multi-cam sitcom Dads. Tommy Dewey (The Mindy Project) was previously cast as the other main character.
The pair will play successful video game entrepreneurs whose lives are upended when their fathers (Peter Riegert and Martin Mull) move in with them. The series already has a six-episode order from Fox. [THR]
If Jimmy Fallon really is taking over Jay Leno's Tonight Show spot starting in 2014, Fallon's old Late Night will need a new host. And NBC may already have just the guy.
Fallon's old Saturday Night Live co-star Seth Meyers is his likely successor, according to a source who spoke with the New York Post. Of course, all of this hinges on the original rumor being true to begin with, and NBC has confirmed nothing as of yet. [via TV Line]
Cougar Town has settled into its new home at TBS quite nicely. The comedy, which originated at ABC before moving to TBS, has just been renewed by the cable network. The upcoming 13-episode season will be the series' second on TBS and its fourth overall, and will debut in 2014. [THR]
TNT is gearing up for summer with a new premiere schedule. Falling Skies debuts first, on Sunday, June 9. The following day, Monday, June 10, marks the return of Major Crimes and the series premiere of King & Maxwell.
Rizzoli & Isles and Perception will debut the week after, both on Tuesday, June 18. The new season of Franklin & Bash arrives a little further down the line, on Wednesday, July 24. [Screen Crush]
If board games like Battleship and toys like the Transformers can become full-fledged feature films, I suppose there's no reason a card game can't turn into a TV series. Mattel and The Gurin Company are teaming up for UNO: The Game Show, in which competitors will play for cash prizes. The half-hour daily version will have a $100,000 jackpot, while the hourlong primetime one will have a $1 million prize. [Deadline]
The secrets of Breaking Bad's final season are out there somewhere, thanks to the actions of an alleged thief. A man has been arrested for breaking into Bryan Cranston's car last December, and now faces charges for stealing one of the show's scripts. The document itself is still missing, according to the Bernalillo County Sheriff's Office. [KOAT via Vulture]
Netflix's next original series, Eli Roth's Hemlock Grove, is due to hit the streaming service next month. Get a little taste with two new images below.
Landon Liboiron and Bill Skarsgård star as two young men who dig deep into a grisly murder in their small town. The series lands April 19. [Collider]
There are still a few weeks til Syfy's Defiance premieres, but would-be fans can whet their appetites right now with the first 14 minutes of the first episode.
The series is set in a future in which aliens co-exist on Earth with humans. Defiance the TV series debuts for real on April 15; its connected video game launches April 2. [io9]
The Starks like to say that "winter is coming," but north of The Wall it's pretty much always winter anyway. A new Game of Thrones featurette looks at some of the people who live up there — the Wildlings.
Game of Thrones returns March 31. [HBO]
Fortunately, HBO's spring season won't be all cold and grim. There's also a new trailer for Louis CK's standup special Oh My God, in which he ruminates on the title.
Oh My God debuts April 13. [HBO]
AMC's latest trailer for Mad Men continues to tell us absolutely nothing about the new season. Instead, it gets fans excited by reminding them why we love this show so much in the first place.
Mad Men's sixth season debuts April 7... which should give you plenty of time to catch up on or review the fifth season, now on Netflix Watch Instantly. [EW, Vulture]