New Spots: 'G.I. Joe: Retaliation' And 'Oblivion'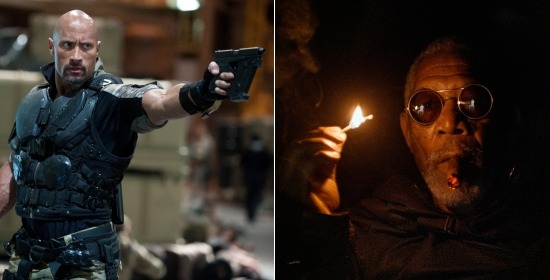 If action heroes are your thing, you're covered this spring. G.I. Joe: Retaliation's nine-month delay finally comes to an end this weekend, while Joseph Kosinski's gorgeous sci-fi adventure Oblivion opens a few weeks later. New spots for both have just hit the web, and you can check them out after the jump.
[via THR]
Most of the G.I. Joe: Retaliation spots have been very heavy on the action, but the amusing rapport between Johsnon and Channing Tatum suggests there's much more to enjoy in this movie than big, shiny explosions. Though I'm sure there are plenty of those as well. G.I. Joe: Retaliation opens in 3D this Thursday, March 28.
A follow-up to the 2009 release of G.I. JOE: RISE OF THE COBRA, which grossed over $300M worldwide, Paramount Pictures, MGM and Skydance Productions, in association with HASBRO and di Bonaventura Pictures, commences production on G.I. JOE: RETALIATION. In this sequel, the G.I. Joes are not only fighting their mortal enemy Cobra; they are forced to contend with threats from within the government that jeopardize their very existence. The film stars D.J. Cotrona, Byung-hun Lee, Ray Park, Adrianne Palicki, Jonathan Pryce, RZA, Ray Stevenson, Channing Tatum with Bruce Willis and Dwayne Johnson.
It's been tough to pin down exactly what Kosinski's Oblivion is about, which is a good thing. The new spots don't offer much in the way of answers either. If anything, they raise still more questions.
[via Screen Crush]
The first of the two spots isn't too different from the trailer we got last month, though I think there may be a few new seconds of footage mixed in.
But the second offers some really exciting new shots, including one of the moon getting blown up, and offers an intriguing glimpse at Morgan Freeman's mysterious character. Forget Tom Cruise the human Wall-E – I can't wait to learn more about Freeman's Malcolm Beach when Oblivion crashes into theaters April 19.
Tom Cruise stars in Oblivion, an original and groundbreaking cinematic event from the director of TRON: Legacy and the producer of Rise of the Planet of the Apes. On a spectacular future Earth that has evolved beyond recognition, one man's confrontation with the past will lead him on a journey of redemption and discovery as he battles to save mankind.
Jack Harper (Cruise) is one of the last few drone repairmen stationed on Earth. Part of a massive operation to extract vital resources after decades of war with a terrifying threat known as the Scavs, Jack's mission is nearly complete.
Living in and patrolling the breathtaking skies from thousands of feet above, his soaring existence is brought crashing down when he rescues a beautiful stranger from a downed spacecraft. Her arrival triggers a chain of events that forces him to question everything he knows and puts the fate of humanity in his hands.