'Ender's Game' Teaser Poster Dives Into The Battle Room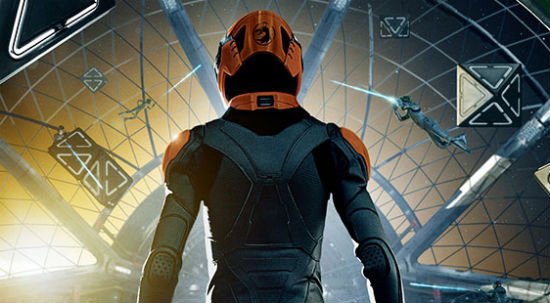 One of the biggest questions about Gavin Hood's adaptation of Ender's Game involves the battle room. Any fan of Orson Scott Card's classic sci-fi novel knows much of the book's excitement, character development and action takes place in a massive zero-gravity chamber where students of Battle School wage war and practices the techniques they learn about in class. The challenge of portraying that on screen is among the biggest hurdles for the upcoming film, so what better image to use for the teaser poster?
Ender's Game is about a young boy (Asa Butterfield) who is recruited from Earth to a space-set Battle School. There, he'll learn to be a military leader by commanding teams of other young kids in zero gravity war games. Co-starring Harrison Ford, Hailee Steinfeld, Ben Kingsley, Abigail Breslin and Viola Davis, the film will be released November 1. Check out the poster below along with some quotes from Hood about the film.
Thanks to Yahoo Movies for the poster. Click for hi-res. Hood talks about it below.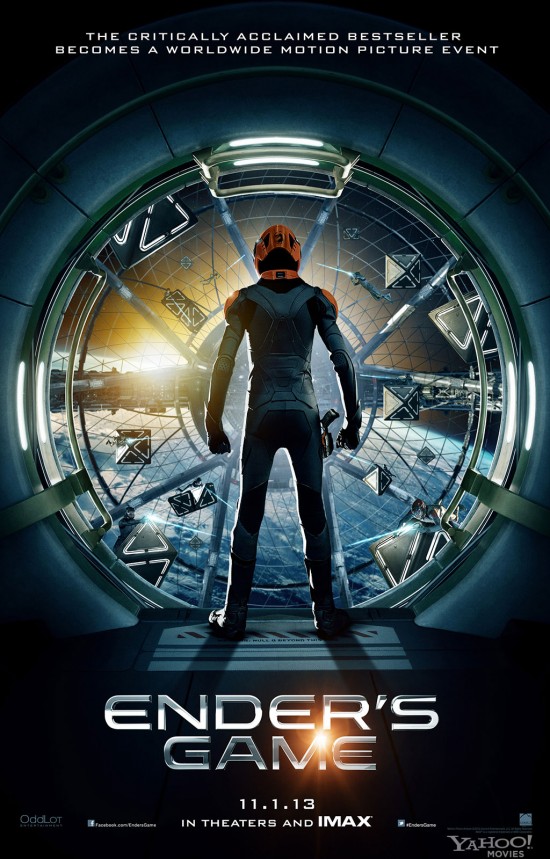 Speaking to Yahoo, Hood described the Battle Room:
This is the high school football field, only it's in three dimensions. It's the size of a football field in all directions: up, down, left, right. And the idea is teams jump out from opposite ends of this amazing space and play this amazing game of 3D paintball, almost.
He then revealed that, though it's a cube in the book, Hood's Battle Room is a sphere:
"What if we could see through? What if we could see out of the space, and we're moving around the Earth and turning at the same time?" He said he felt that would create "a really strange, disorienting experience."
We'll have so much more Ender's Game soon you can't believe it. A trailer is coming, along with a report from the set, interviews and more. It's about to get all Wiggin up in here in the coming months. But first, what do you think of the poster?
In the near future, a hostile alien race called the Formics have attacked Earth. If not for the legendary heroics of International Fleet Commander Mazer Rackham (Ben Kingsley), all would have been lost. In preparation for the next attack, the highly esteemed Colonel Hyrum Graff (Harrison Ford) and the International Military are training only the best young minds to find the future Mazer.
Ender Wiggin (Asa Butterfield), a shy but strategically brilliant boy, is recruited to join the elite.  Arriving at Battle School, Enderquickly and easily masters increasingly difficult challenges and simulations, distinguishing himself and winning respect amongst his peers. Ender is soonordained by Graff as the military's next great hope, resulting in his promotion to Command School.  Once there, he's trained by Mazer Rackham himself to lead his fellow soldiers into an epic battle that will determine the future of Earth and save the human race.
Based on the best-selling, award winning novel, ENDER'S GAME is an epic adventure which stars Asa Butterfield, Hailee Steinfeld, Ben Kingsley,Viola Davis, with Abigail Breslin and Harrison Ford.