'Monsters University' And 'Despicable Me 2' Kids' Choice Award TV Spots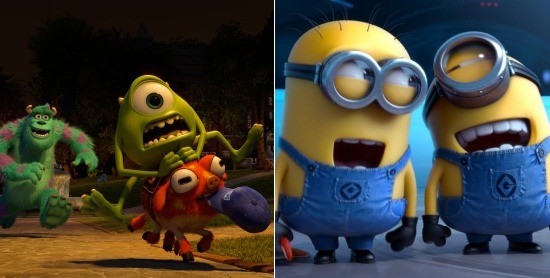 The Oscars they aren't, but the Kids' Choice Awards are very good for getting fresh looks at upcoming films. Both of this summer's big animated sequels — Monsters University and Despicable Me 2 — premiered new spots with unseen footage at this weekend's event.
The former is still running with its college theme, as Mike and Sulley enjoy the G-rated, Pixar equivalent of a wild frat party. The latter shifts the focus back to the minions once again. Both are very heavy on the adorable. Check them out after the jump.
Like the Iron Man 3 spot, the Monsters University commercial glosses over any of the real conflict in the plot, and just showcases an energetic good time. That's not a complaint, since it really does look like one heck of a party. Join in on the fun when Monsters University opens June 21.
Mike Wazowski and James P. Sullivan are an inseparable pair, but that wasn't always the case. From the moment these two mismatched monsters met they couldn't stand each other. "Monsters University" unlocks the door to how Mike and Sulley overcame their differences and became the best of friends. Screaming with laughter and fun, "Monsters University" is directed by Dan Scanlon ("Cars," "Mater and the Ghostlight," "Tracy") and produced by Kori Rae ("Up," "The Incredibles," "Monsters, Inc.").
The Despicable Me 2 spot brings the attention back to the minions. No wonder the yellow henchmen are getting their own movie next year — they steal the spotlight even in films where Gru is ostensibly the main character.
I don't typically love fart jokes, so it is a testament to how irresistible I find those damn minion that I found the 21-fart-gun salute more amusing than annoying. Despicable Me 2 drops July 3.
Universal Pictures and Illumination Entertainment's worldwide blockbuster, Despicable Me, delighted audiences around the globe in 2010, grossing more than $540 million and becoming the 10th-biggest animated motion picture in U.S. history. In Summer 2013, get ready for more minion madness in Despicable Me 2. Chris Meledandri and his acclaimed filmmaking team create an all-new comedy animated adventure featuring the return of Gru (Steve Carell), the girls, the unpredictably hilarious minions...and a host of new and outrageously funny characters.
Discuss: Is it called Beirut or beer pong? (And yes, I know that technically whatever Sulley's doing is neither.)