Star Wars Bits: 'Return Of The Jedi' 30th Anniversary Screenings And Making Of Book, Angry Birds Update And More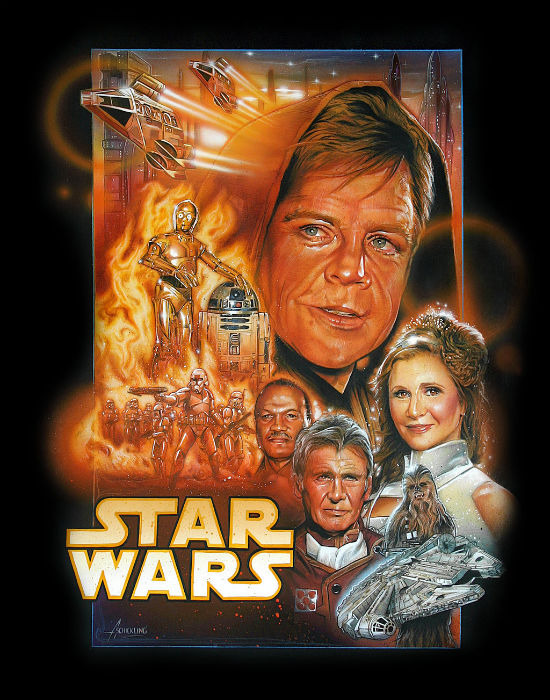 How beautiful is that fan-made Star Wars Episode VII poster? It's by artist Adam Schickling and it's so cool, we decided to round up a few pieces of Star Wars news just so we could showcase it. After the jump read about the following
Return of the Jedi will screen May 4 at the Chinese Theater in Hollywood to celebrate its 30th anniversary
Star Wars Angry Birds is about to get a Cloud City update
The synopsis for The Making of Star Wars: Return of the Jedi by J.W. Rinzler has been released.
Rumors suggest the future of LucasArts could be in question.
Darth Vader invades Tokyo in viral video for Tokyo Disneyland's Star Tours upgrade.
Check out art of iconic Star Wars scenes reimagined like an Eighties teen movie.
A new law could make it legal to be married by a Jedi...in Scotland.
2013 marks the 30th anniversary of Return of the Jedi and besides the celebration that'll happen at Star Wars Celebration, Entertainment Weekly's new CapeTown blog is throwing a bash in its honor. A full day of screenings will take place on May 4 (May the Fourth Be With You) at the TCL Chinese Theater in Hollywood, CA. It's iconic location as it held the premieres for the original Star Wars Trilogy and stars will be on hand. For more on the festival, click this link.
Yup, looks like Star Wars Angry Birds is getting a Cloud City update in the near future. Thanks to SlashGear.
Any huge Star Wars fan will tell you,  J.W. Rinzler's Making Of books are absolute must owns. You can read, re-read and flip through them every single day and learn something new about the original Star Wars Trilogy. After successful books for A New Hope and Empire Strikes Back, Random House has just revealed a detailed synopsis for The Making of Star Wars: Return of the Jedi which will be released October 8. It's long, so here are just a few stories the book details. Read more at TheForce.net.
George Lucas, Oscar-nominated screenwriter Lawrence Kasdan, and director Richard Marquand huddle in a script conference to debate the destinies of iconic Star Wars characters, as well as plot twists and turns for the epic final showdown between the Rebel Alliance and the Empire.
Artists and craftspeople at the groundbreaking Industrial Light & Magic facility top their own revolutionary innovations—despite the infamous Black Friday—with boundary-pushing new analog visual effects
A crack team of sculptors, puppeteers, actors, and "monster-makers" bring Jabba the Hutt and his cohorts to startling, slobbering life from the inside out
A who's who of heavyweight directors—from such films as Superman, Gremlins, Halloween, Dune, Scanners, and Time Bandits—are considered for the coveted job of bringing a new Star Wars adventure to the silver screen
Actors and crew race to the finish line at Elstree Studios, in a fiery desert, and beneath the trees of a dense redwood forest—before money runs out—to answer the questions that audiences had waited three years to find out: Is Darth Vader really Luke's father, who is the "other"—and who or what is the Emperor?
I can't wait for that book.
Last week we heard about the future of LucasFilm Animation and now we have a hint at what's in store for the video game company, LucasArts. According to Games Industry (via TheForce.net) rumors are spreading that company is on a hiring freeze pending decisions from Disney as to what's next. That might also include the company going away. It's all rumor, but read more at the links.
The Disney Blog found this awesome viral video teasing the upcoming Star Tours: The Adventure Continues upgrade coming to Tokyo Disneyland. They link to another on there too.
/Film reader Travis G alerted us to this IO9 article featuring artwork by artist Denis Medri who reimagined several iconic Star Wars scenes with a 1980s feel. Here's just one example, of Lando meeting Han on Cloud City, but head there to see many more.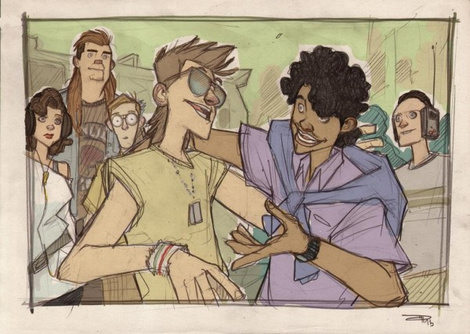 Finally, the BBC (via Blastr) reports that a new law that's being considered in Scotland, The Marriage and Civil Partnership Bill, allows people to get married under any belief system, without specifying a religious link. So, if one so wanted, the law could probably allow for a couple to be married as a Jedi. Head there to read more.
Header image: For more of Schickling's work, visit his Deviant Art page.