Sequel Bits: 'Percy Jackson', 'Dredd', 'Transformers 4', 'Star Trek Into Darkness', 'Despicable Me 2'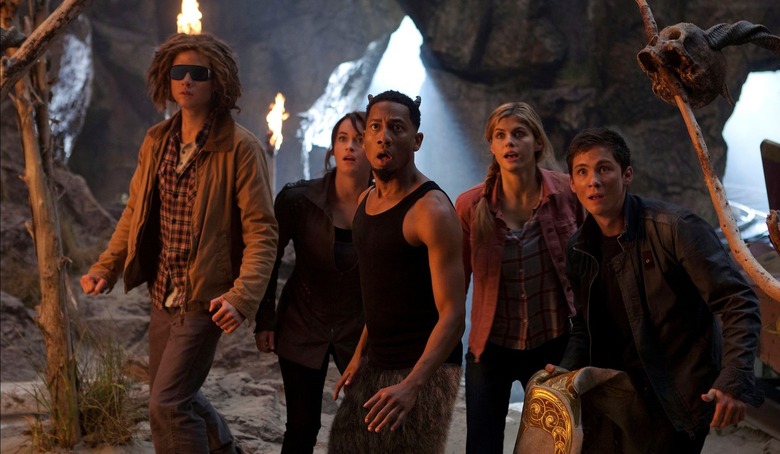 Here are some sequel-related odds and ends for the start of the week. After the jump:
Transformers 4 scouts the GM plant as a possible location
Dredd isn't getting a sequel, but may get a short film
Win one of 50 uniform from Star Trek Into Darkness
Star Trek Into Darkness participates in Earth Hour
Universal's "Despicablimp" embarks on a cross-country tour
See the first pics from Percy Jackson: Sea of Monsters
While he cautions that "Nothing has been committed to on either side," he acknowledges that "There are some conversations that have taken place." The plant is scheduled to shut down in July for reasons unrelated to Transformers. [M Live via Transformers Live]
That Dredd 3D, which earned $35 million on a budget of $50 million, isn't getting a sequel should come as a surprise to no one. But just in case you had any doubt, in a Reddit AMA session, producer Adi Shankar acknowledged that Dredd would "probably not" get a follow-up. "It's because the movie totally bombed & R-rated movies are a tough sell to begin with," he added.
And don't look for Kickstarter to save the would-be franchise, either.
the problem is a scifi project is intrinsically more expensive that a walking & talking movie ... Veronica Mars only raised $2mil ... which is a lot of money but not nearly enough to make a good sci-fi movie.
On the plus side, though, fans will be pleased to learn that we haven't seen the last of Dredd's world. "I am working on a Dredd short in the vein of #DirtyLaundry ... you're actually the first person to know about this ..." he said. [via Comic Book Movie]
A proper U.S.S. Enterprise crew member needs a proper uniform, and now you can win one from the actual movie set. Users of Paramount's Star Trek Into Darkness app can enter once a day through March 31 to win one of 50 costumes from the movie. Non-users who still want to snag one of the outfits can go to www.StarTrekMovie.com/app to download the app. [TrekMovie]
Star Trek Into Darkness helped lead London into darkness for Earth Hour this weekend. The annual event sees cities around the world turning off non-essential lights for one hour to raise awareness about climate change.
Paramount sponsored a Star Trek-themed light display for London, in which quadrocepters (using batteries charged via green energy, natch) flew into the night sky and formed the Star Trek federation logo to mark both the start and end of Earth Hour. Watch a video from the show below.
Star Trek Into Darkness lands May 17. [ComicBook.com, PRNewswire]
Everyone wants a piece of the minions, the puffy yellow henchmen from Despicable Me and the upcoming Despciable Me 2. So Universal's more than happy to bring it to them. The studio has just launched the 165-foot-long "Despicablimp," painted to look like a gigantic version of one of the minions. He doesn't look quite as head with the conehead, but he'll do.
The airship embarked Friday on a 20,000-mile tour that'll zigzag across the country three times over six months. The first stop was Saturday's Nickelodeon 2013 Kids' Choice Awards in Los Angeles. Check out photos and video from the making-of and launch below.
Despicable Me 2 opens July 3. [PR Newswire]
I have to admit I haven't been paying much attention to Percy Jackson: Sea of Monsters, mostly because I'm pretty sure it's targeted at people a decade or two younger than I am. But a new batch of photos reminds me that it's got a pretty respectable cast, kid's movie or no.
Logan Lerman, Brandon T. Jackson, and Alexandra Daddario return from the first film, and Stanley Tucci and Nathan Fillion join Sean Bean's Zeus on Mount Olympus this time around. Fillion and Bean are nowhere to be seen in the new pics, unfortunately, but you can spot Tucci as a sad wine god forbidden to drink.
Percy Jackson: Sea of Monsters opens August 16. [USA Today]