LOL: 'Disney's Spring Breakers'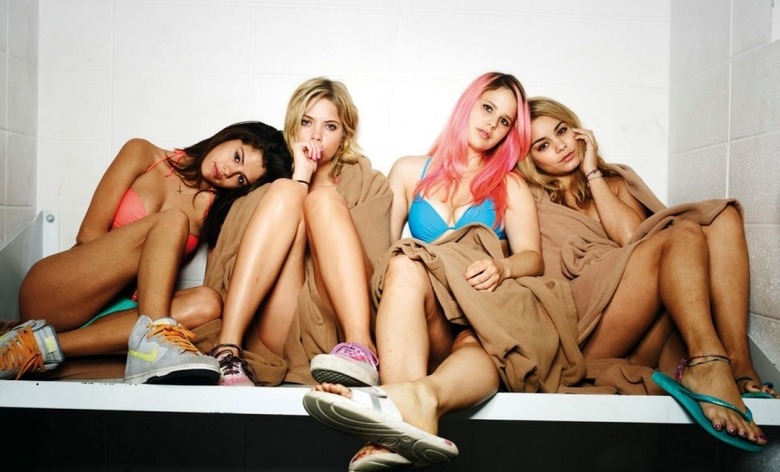 So much of the buzz surrounding Harmony Korine's Spring Breakers lies in the fact that these aren't just any good girls gone bad. The film stars former Disney gals Selena Gomez and Vanessa Hudgens as two of the central foursome, adding an even more scandalous edge to the already wild and debauched proceedings. Naturally, any theoretical sequel would have to kick things up a notch with even more wholesome stars getting even more corrupted.
Enter College Humor, who already has a great idea as to how Hollywood could accomplish just that. Their parody video Disney's Spring Breakers imagines actual Disney princesses — specifically, Cinderella, Snow White, Ariel, and Jasmine — donning their skimpiest bikinis for the craziest trip of their lives. Tagline: "What happens in the Magic Kingdom, stays in the Magic Kingdom."
Hit the jump to check it out, but be warned that the language makes this somewhat NSFW.
The one part of this video that didn't quite work for me is Aladdin's Genie subbing in for Alien. It's not a bad replacement in theory, but the character James Franco played in the original Spring Breakers is so singular and so weird that this other, bluer version of him just can't measure up.
Otherwise, College Humor gets kudos for getting both Spring Breakers and Disney classics just right. The video emulates Korine's style well enough that it could be an outtake from the real film, if you don't look too closely, and the dialogue is sprinkled liberally with repurposed Disney quotes. (You can just imagine how "Darling it's better, down where it's wetter" gets used this time around.) There's also a nice nod to the Lion King S-E-X rumor at the end, though for my money, nothing beats the bluebirds helping Cinderella put on her bikini.
The actual Spring Breakers is in theaters today. Click here to check out Germain's review.