New 'Welcome To The Punch' Trailer Released; Read Buzz From UK Release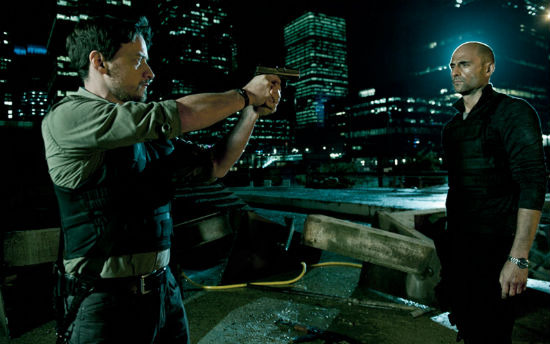 Films like Guy Ritchie's Lock Stock and Two Smoking Barrels, Snatch and Matthew Vaughn's Layer Cake represent a very particular kind of British crime drama. They're modern, they're slick, they have memorable characters, and feature tons of twists and turns in the plot. Eran Creevy's Welcome to the Punch looks very much like that.
Produced by Ridley Scott, the film stars James McAvoy as a detective on the trail of a crime boss, played by Mark Strong. It was released in the UK last week and opens in the US theaters and on VOD next week. A trailer came out a few months back, but that since disappeared in favor of this latest one that shows a distinct visual style and plenty of action. Check it out after the jump, along with a few quotes from UK reviews.
Thanks to Deadline for the heads up on the trailer. I have a feeling it's the same as the trailer released last year, but that's been removed and I didn't watch it.
Welcome to the Punch opened in the UK last week to decidedly mixed reviews. Here are some highlights.Variety:
A proficient but personality-free policer that demands little of either its audience or its enviable best-of-British cast.... A simplistic urban morality tale.
An ambitious picture that may have drawn some inspiration from the Hong Kong Infernal Affairs movies, and I sense that it may well get box-office success. But it runs out of steam, with plot revelations visible from a mile away and a bit of a plausibility gap.
A glitzy thriller....The plot, involving a conspiracy between gangsters, police and politicians, is confused, but the set pieces (most especially the opening robbery) are expertly, if self-consciously staged.
While still short on explosions, Punch boasts some cracking gunfights but, more importantly, makes London look like a modern, gleaming metropolis .... Ultimately though, this Punch will leave a mark.
Here's the plot description from the official site:
The second feature from acclaimed British music video director and filmmaker Eran Creevy, WELCOME TO THE PUNCH  is the story of two arch-nemeses: detective Max Lewinsky (James McAvoy; X-MEN: FIRST CLASS, WANTED) and master criminal Jacob Sternwood (Mark Strong; SHERLOCK HOLMES, ZERO DARK THIRTY). When Sternwood escaped three years ago after a daring robbery, Max was left emotionally and physically scarred. But after Sternwood's son turns up in a hospital due to a failed heist, he's forced to return to London – giving Max his second chance to get the one criminal who got away. Yet as Max delves deeper into the case he uncovers a vast conspiracy. Featuring rising star Andrea Riseborough (W.E., SHADOW DANCER) and Peter Mullan (TYRANNOSAUR, WAR HORSE), the film was shot in the gleaming streets of London's rejuvenated East End and the banking center of Canary Wharf. Executive produced by Ridley Scott, WELCOME TO THE PUNCH is a sleek modern thriller.