'Warrior' Director Gavin O'Connor Steps In To Direct 'Jane Got A Gun'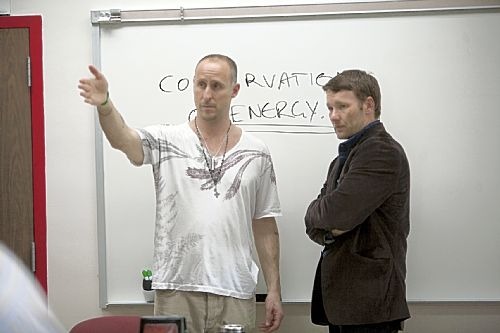 On Monday, Lynne Ramsay was set to begin shooting the western Jane Got a Gun, with Natalie Portman (who is also producing) as a woman who, with a former lover, defends her homestead and spouse against bandits that wounded her husband. Joel Edgerton and Jude Law are also in the cast, with Law replacing Michael Fassbender.
But when day broke on Monday and the cast and crew were in place, Ramsay was nowhere to be found. For reasons unknown to the public, Ramsay didn't show up, and was effectively fired (or quit) as a result.
Producer/financier Scott Steindorff said yesterday that he and the cast and crew were committed to the film and that a new director would be hired. Now, Warrior director Gavin O'Connor is in talks to make the film, and will reportedly begin directing on Thursday.
Update: Jude Law has now exited the production. Details here.
Deadline reports the in-progress deal. I think it's safe to say that O'Connor will make a very different film than Ramsay would have. But even outside the parameters of finding a fast emergency replacement, he's an interesting choice. If you'd told me a year ago that O'Connor was planning this same movie, with the same cast, I would have been very curious to see it.
I do wonder still about the circumstances of Ramsay's departure. Assuming that it is not for health reasons, there's still a lot of story left to tell. Deadline says that on Monday "the director wasn't showing up after a series of negotiating twists and turns took place over the weekend." That implies a few possible scenarios, including one or two where Ramsay quit or was fired over the weekend.
THR says her "clashes late last week with producer Scott Steindorff led to her quitting the project."
We know that Steindorff has a lawyer working on his side, and can assume that Ramsay has the same. We haven't heard from her yet, which I would presume is on the advice of her lawyer.
O'Connor and Joel Edgerton have ties thanks to Warrior. Did that make the last-minute emergency call an easy one to make? Or did Steindorff have conversations with O'Connor prior to this week, about taking over the film? We don't know; at this point I can see it going either way.
Regardless, the new version of Jane Got a Gun, still based on a script by Brian Duffield, will roll this week.
In Jane Got a Gun, Natalie Portman plays the title character, a woman whose outlaw husband returns home riddled with bullets. Convinced his gang will return to finish him off and destroy her farm, the woman turns to an ex-lover she hasn't seen in a decade to help her defend the farm.