TV To The Big Screen: 'Party Down' Probably Won't Use Kickstarter, Zachary Levi Wants WB To Make 'Chuck' Movie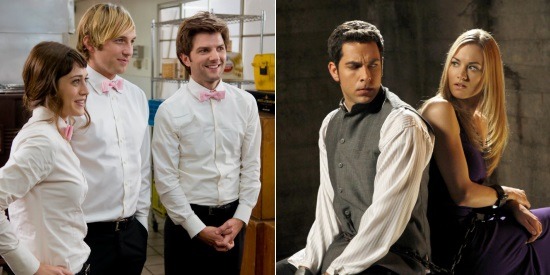 Veronica Mars' successful Kickstarter campaign opened up a whole new route for TV makers hoping to revive their cancelled series, and Chuck's Zachary Levi, for one, hopes to take advantage of it. Meanwhile, one TV maker who wants to stick with a more conventional approach for his next project is Veronica Mars creator Rob Thomas himself, who says Party Down will likely take a more conventional path to the big screen. Hit the jump to read more.
At this point, it looks very unlikely that Party Down will make the spring / summer 2013 start suggested by Megan Mullally last year. But in the meantime, there's still a good chance some of our favorite cater waiters could crop up in Neptune. Ryan Hansen and Ken Marino appeared on Veronica Mars throughout the series' run, and both Jane Lynch and Adam Scott had one-off guest roles.
In fact, that's precisely why Ron and Henry won't be working the school reunion. "That I don't think you'll see because most of the caterers from Party Down have already appeared in Veronica Mars as other things," Thomas laughed. "That would be very confusing."
For now, there's not much to do but wait and see how this new model works out. And all goes well, Levi hopes Chuck might get a second shot at life that way.
1st, congrats to @IMKristenBell & @RobThomas for helping move entertainment a little closer in the direction I've always hoped it would go...

— Zachary Levi (@ZacharyLevi) March 13, 2013
2nd, to you Chucksters, believe that this news only bolsters my faith that I can help bring you a #ChuckMovie. Be patient. Stay tuned.

— Zachary Levi (@ZacharyLevi) March 13, 2013
Levi clarified to EW that there was nothing official in the works just yet, but that it hasn't been for lack of trying. "I went to both [executive producer] Chris Fedak and [Warner Bros. Television president] Peter Roth at the very end of the fifth season and said, 'Hey what if we made an online movie and just sold it directly to fans? We could keep this going. It could be fun."
He didn't have much success at the time, but he believes that things have changed since then. "Even though that was only a few years ago, we're obviously at a different time," he added. At least his old Chuck colleagues have been behind him. "I talked to Yvonne [Strahovski] maybe a month ago and said, 'If I can get this movie made, would you be open to doing [it]? Even an online version of it?' And she was totally game. So I know that I've got the cast and crew on board."
Adding to Levi's optimism is the fact that Warner Bros., which greenlit Veronica Mars, was also the home of Chuck. "If Warner Bros. is game, I've got great ideas for what the movie would be that I'm very excited about," he said.