Star Wars Bits: Harrison Ford, Brad Bird, Dwayne Johnson, Dave Filoni, 'Star Wars: First Assault', 'Luke's Change: An Inside Job', Disney World, Atlanta Braves, And More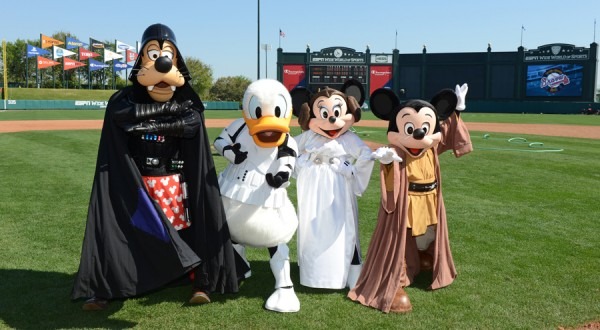 Jedi may be more comfortable swinging lightsabers than baseball bats, but Mickey-as-Obi-Wan seems to hold his own just fine against the Atlanta Braves in spring training. Check out the photographic evidence after the jump. Also:
Harrison Ford is pretty sure he'll be in Episode VII
Rumor has it a Palpatine follower is Episode VII's villain
Here's what Brad Bird would change about Episode VI
Was the destruction of the Death Star an inside job?
Dwayne Johnson would "absolutely" do Star Wars
Vote for the best character in StarWars.com's bracket
Disney World's Star Wars Weekends unveils a new poster
Could Disney World get a new Star Wars-themed "land"?
See new screencaps from Star Wars: First Assault
Clone Wars director Dave Filoni is working with Disney Channel
The plot of Episode VII remains a big question mark, which of course means there's plenty of room for rumors to spring up. One that's been going around is that the series will pick up 30 years after Return of the Jedi, with the Skywalker / Solo kids battling Sith armies led by a disciple of Emperor Palpatine. Odds are this one won't pan out, either, but on the off chance it turns out to be true, what do you think? [Cosmic Book News via The Force]
Brad Bird hasn't directed a Star Wars movie and has no plans to, as far as we know. That's not stopping him from pondering what he might have done if he had — specifically, Episode VI – Return of the Jedi. Actor Patton Oswalt recounted a conversation he had with the filmmaker.
I was talking with Brad Bird one time, and he said it's like the beginning of Return of the Jedi. Luke shows up and he's a badass. He said they should've opened it with Luke in the swamp saying to Yoda, "You said 'Don't go.' I said 'Fuck you, I'm gonna go help my friends.' I went and got my hand cut off and my friends are in even worse trouble because of what I did. I fucked up everything." And then Yoda should have gone, "Now you're a Jedi. Now you're beyond the fear of failure. Now you're ready." That would have made it even cooler.
Yes, I think it would have. [Esquire via Vulture]
Was 9/11 an inside job? Of course not. Was the destruction of the Death Star? Well... this Star Wars-themed Loose Change satire by Graham Putnam makes a pretty compelling argument that it was.
On the other hand, Slate also makes some strong counterpoints as to why Putnam's theory is pure hooey. Debate among yourselves in the comments. [via BoingBoing]
Dwayne Johnson's already given a much needed boost to the Fast & Furious, Journey to the Center of the Earth, and G.I. Joe franchises. And he'd be willing to do the same for the Star Wars series, if only they'd have him. "Am I interested? Absolutely. Who would I like to play? That would be up to J.J." he said at G.I. Joe: Retaliation's UK premiere.
Johnson was quick to assert, though, that any casting talk was strictly rumor at this point. "I love how this whole story, by the way, has warped into this reality that I'm going to be in Star Wars," he said, shaking his head. "Look, I love J.J., I'm a big big fan, and I'm a big fan of Star Wars. He's going to be awesome directing." [Hey U Guys]
Star Wars fans can argue til the cows come home about which character is the best. Now StarWars.com is ready to settle the score once and for all. Well, not really because we know this won't actually end any debate. But it'll be fun to watch the characters pitted against each other just the same.
The "This Is Madness" Star Wars Character Tournament began this week, with Han Solo and Darth Vader winning the first two matchups. Click over to StarWars.com to cast your votes on Obi-Wan Kenobi vs. Qui-Gon Jinn and Darth Maul vs. Asajj Ventress.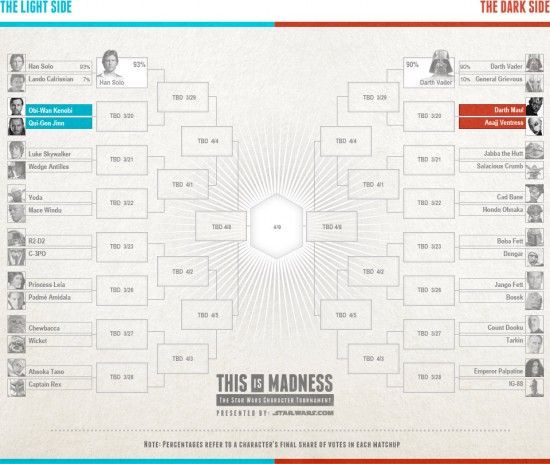 [via Mashable]
Even before Disney's recent acquisition of Lucasfilm, Star Wars Weekends were an annual tradition at Disney World. This year is no different. The 2013 poster shows Mickey, Chip and Dale zipping around forest moon of Endor.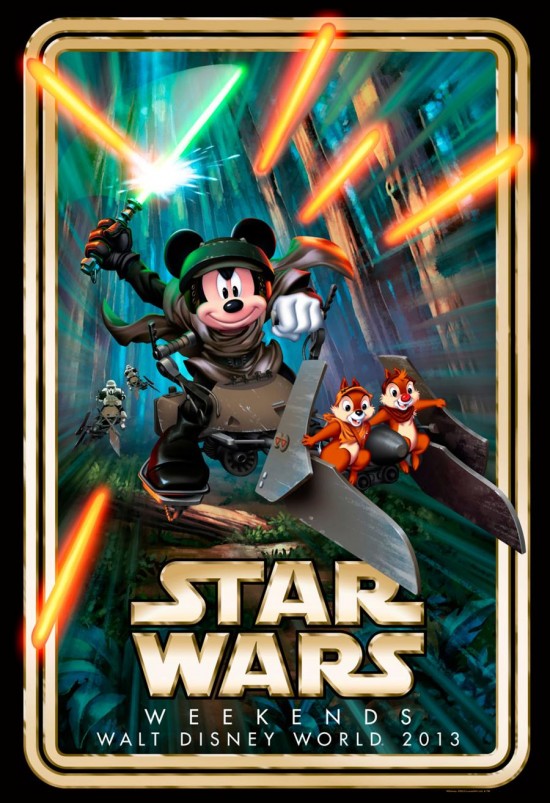 Star Wars Weekends begin the weekend of May 17-19 and run through the weekend of June 7-9. Ray Park and Warwick Davis will be among the celebrity guests in attendance. [Disney via The Force]
In other Disney – Star Wars synergy news, Mickey and his pals donned robes and wielded lightsabers to join the Atlanta Braves for spring training at ESPN Wide World of Sports Complex in Disney World.
I shudder to think how awkward and sweaty those costumes must be, but at least they look cute. [Disney]
Star Wars Weekends and spring training are seasonal, but if a new rumor can be believed, Star Wars could soon find itself with a more permanent home at Disney World. According to ScreamScape, the Parade Float building is being knocked down for a new attraction that may or may not be a Star Wars-themed land. It's pure speculation at this point, but it doesn't sound entirely farfetched. [via Disney and More]
It's not clear we'll ever see Star Wars: First Assault hit shelves, but at least we can get a glimpse of what it might look like. Flip through the gorgeous screenshots below.
Sadly, LucasArts has yet to decide whether they want to proceed with the game. [Kotaku]
Star Wars: The Clone Wars is at an end, but it sounds like Disney's hoping to get something fairly similar off the ground. At an upfront presentation, Disney Channel boss Gary Marsh revealed that the company is "working closely with LucasFilm, Kathleen Kennedy and director Dave Filoni to explore new Star Wars content for our platforms," with more details to come later this year. Filoni directed the feature Star Wars: The Clone Wars, and served as a supervising director on the TV version. [TV Line via The Force]