Despite Persistent Rumors, Emma Watson Laughs Off 'Fifty Shades Of Grey'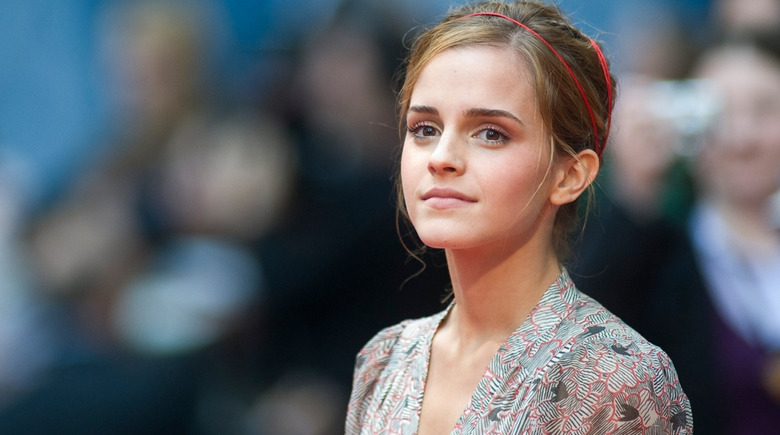 Ever since Universal picked up E.L. James' erotic bestseller Fifty Shades of Grey last year, it seems like every other actress in Hollywood has been rumored for the female lead. Sometimes the gossip is based on an offhand remark made by the actress herself, but more often it seems to be inspired by nothing more than wishful thinking.
Last summer, one of the juiciest rumors making the rounds was that Emma Watson could be attached to star. Watson quickly debunked that claim, stressing that she hadn't so much as seen a script, but in recent weeks her name's cropped up again thanks to Anonymous' hack of a German film studio. But it seems this story isn't any more reliable than the last one was. The actress has now taken to Twitter to put an end to the talk once and for all. Read Watson's comment after the jump.
Who here actually thinks I would do 50 Shades of Grey as a movie? Like really. For real. In real life.

— Emma Watson (@EmmaWatson) March 17, 2013
Good. Well that's that sorted then.

— Emma Watson (@EmmaWatson) March 17, 2013
The former Harry Potter star hasn't been particularly shy about exploring her bad girl side onscreen. Her next release, Sofia Coppola's The Bling Ring, features her as one of a gang of teens who rob the homes of the rich and famous. But even so, nothing she's done so far suggests she'd be comfortable with the amount of sex and nudity required by the hot and heavy Fifty Shades of Grey.
It's no wonder the talk spread as quickly as it did. Fifty Shades' subject matter is titillating in and of itself, and once you toss in a clean-cut actress like Watson into the mix the story becomes to saucy not to repeat. Plus, to play devil's advocate, we still don't know for 100% certain that Watson isn't starring. We've seen actors and their agents lie about upcoming projects plenty of times before.
But for now, it seems safe to assume Universal will have to look elsewhere for their Anastasia Steele. And soon, if Universal still has its fingers crossed for a mid-2014 release.