Tom Hooper Rumored For Sacha Baron Cohen's Freddie Mercury Biopic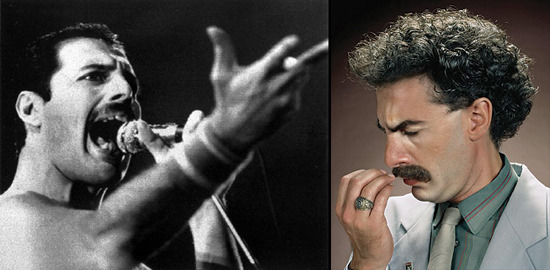 With his first two features, Oscar-winning director Tom Hooper has shown a penchant towards historical dramatizations and music. Those films, of course, are The King's Speech and Les Miserables. His third film might be a mix of the two, and the true story of a legendary musician. Hooper is currently circling the Freddie Mercury biopic with Sacha Baron Cohen attached to star.
Deadline broke the news of this possible pairing, saying the following:
I'm hearing there could be a potential match between Tom Hooper and the Peter Morgan-scripted film about icon Queen lead singer Freddie Mercury that is set at Sony Pictures and GK Films.... From what I'm hearing, there is no formal offer at the moment and there are several offers for Hooper, who before Les Miserables helmed the Best Picture-winning The King's Speech. But keep an eye on this one, which Graham King and Tim Headington are producing with Robert De Niro and Jane Rosenthal, with Queen Films.
Sacha Baron Cohen just worked with Hooper in Les Miserables and came back to represent the film and director at the Oscars so it seems like they have a good working relationship. And based on Hooper's films, as well as his work in TV, he seems like a great choice for the Freddie Mercury biopic. Plus, his attachment – if it works out – would certainly get the thing moving. He's an Oscar winner, after all.
What do you think about the possible pairing?