'The Lone Ranger' International Trailer: Big Explosions Need No Translation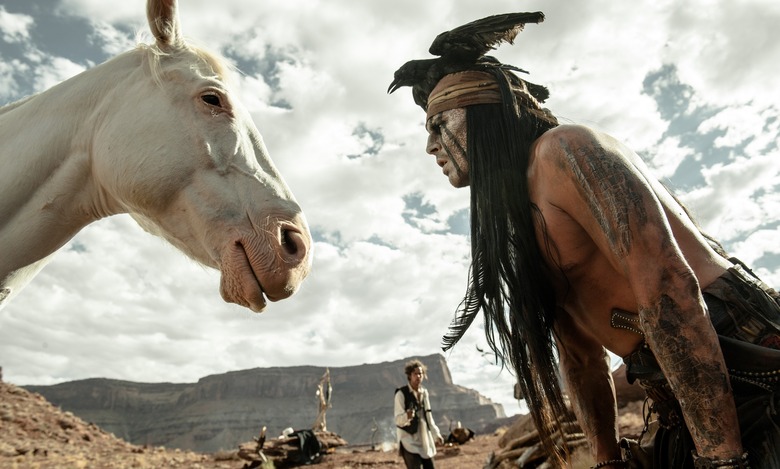 As a former Texas Ranger who fights for justice in the Old West, the Lone Ranger is a quintessentially American hero. But as a big-budget Disney spectacle, The Lone Ranger will be riding all over the globe this summer.
The studio has just unleashed a new international trailer for the tentpole pic, which stars Armie Hammer as the lantern-jawed do-gooder and Johnny Depp as is off-kilter sidekick Tonto. There's plenty of exciting new action footage to be found in it, so check it out after the jump.
There's not much in the way of plot, but there's plenty of shiny explosions and fancy stuntwork. It's especially nice to see Helena Bonham Carter getting in on the action, since I don't think we've seen too much from her so far. Tonto is no Captain Jack Sparrow (at least that we can tell so far), but the movie as a whole has the potential to deliver the same zippy, high-energy, mostly family-friendly fun that made Pirates of the Caribbean: The Curse of the Black Pearl such a smash hit.
The Lone Ranger opens July 3.
From producer Jerry Bruckheimer and director Gore Verbinski, the filmmaking team behind the blockbuster "Pirates of the Caribbean" franchise, comes Disney/Jerry Bruckheimer Films' "The Lone Ranger," a thrilling adventure infused with action and humor, in which the famed masked hero is brought to life through new eyes. Native American spirit warrior Tonto (Johnny Depp) recounts the untold tales that transformed John Reid (Armie Hammer), a man of the law, into a legend of justice–taking the audience on a runaway train of epic surprises and humorous friction as the two unlikely heroes must learn to work together and fight against greed and corruption.