'Penthouse North' International Trailer: Michael Keaton Threatens Michelle Monaghan In Long Shelved Thriller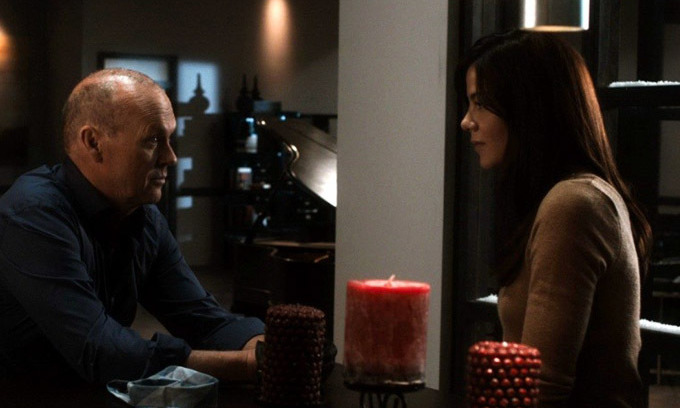 Michael Keaton hasn't appeared on the big screen since 2010's The Other Guys, but that doesn't mean he hasn't been working. Way back in 2011, he and Michelle Monaghan were cast in a thriller titled Penthouse North. The film entered production with helmer Joseph Ruben late that year, to be distributed by Dimension Films. And it's been sitting on the shelf ever since.
As of today, the picture still has no U.S. release date. But it does have an international trailer, which offers some idea as to why this movie slipped off the radar. Watch the trailer after the jump.
The Playlist picked up the new video.
Keaton going crazy is usually fun to watch, so at least this movie has that going for it. But for the most part it looks groaningly generic. If you told me the producers of this film had simply forgotten its existence, and that that was why it never made it to theaters, I would probably believe you.
Especially since much of the talent have since moved on to much more promising efforts. Keaton's already shot José Padilha's RoboCop remake and Larry David's HBO film Clear History, and has Alejandro González Iñárritu's Birdman and the video game adaptation Need for Speed lined up next. And Monaghan has a pair of interesting indies due out soon, A Many Splintered Thing and Better Living Through Chemistry.
Sara Taylor (Monaghan), a photojournalist blinded in Iraq, is forced to play a deadly game of cat and mouse with the sadistic criminal Hollander (Keaton) – a man who will stop at nothing to get a fortune of stolen diamonds hidden in Sara's penthouse apartment. Although Sara claims to not know where the diamonds are, Hollander utilizes psychological and physical torture in an effort to break Sara's resistance. But Sara fights back. As the suspense builds to a shattering climax, Sara gains the advantage. But will it be enough to save her?