'Veronica Mars' Movie Completely Funded By Kickstarter In Less Than 12 Hours [Updated]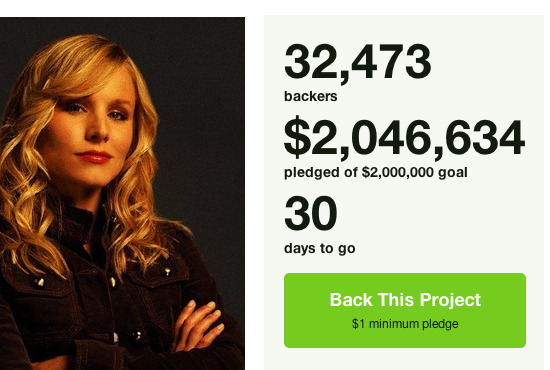 Update from Editor Peter Sciretta: In less than 12 hours from launching the kickstarter, Rob Thomas has raised over $2,000,000 for the Veronica Mars movie, hitting the goal of the project. Of course, they have 30 days left to go, and will still need the fans to help raise more money to allow them to do more in the story. $2 million might sound like a lot to many of you, but consider they lose an estimated $400,000 to Kickstarter fees and taxes. They will likely have to pay 20% in fees and taxes of any future raised funds too. And they also need to pay for the various rewards to those who have and will fund this project, which includes shipping posters, t-shirts, dvds and box sets. The film will likely have to be a union production, and while its expected the actors will be working close to scale (and participate in the back end) it still will be very costly at the absolute minimum level. Basically I'm saying, just because they've hit the goal doesn't mean you shouldn't "donate." Do you want to see a good movie? Haven't donated yet? You still have 30 days... The original story from Angie Han can be read after the jump.
Like so many other brilliant-but-cancelled TV series, Veronica Mars has been surrounded by movie sequel rumors since the day it ended. As the years went on, though, the talk continued but the progress didn't (or at least not that we could see). The cast and crew continued to field questions while doing press for their other projects, but it seemed clear that the Veronica Mars movie sequel was dead in the water.
But if there's one thing Veronica is, it's persistent. We should've known she wouldn't give up so easily. The movie sequel has now sprung back to life, with a targeted release date of 2014... but only if the fans are willing to chip in to help get it made.
Series creator Rob Thomas launched a Kickstarter page this morning, complete with a wonderful pitch video that brings together a healthy chunk of the Veronica Mars cast.
Even if the movie never actually comes to pass, the campaign will have been worth it just for this adorable reunion.
The Kickstarter effort is being carried out with the cooperation of Warner Bros., who've agreed to market, promote, and distribute the movie if fan interest is high enough. The picture's $2 million goal is fairly low as film budgets go, but it's very high for a Kickstarter project. According to the pitch, it's the biggest Kickstarter movie budget ever. If Veronica Mars can collect the dough by April 12, it'll be on track to shoot this summer, enter pre-production this fall, and hit theaters early next year.
As for what exactly we'll see in the movie, Thomas has a few juicy hints.
Life has taken Veronica away from Neptune. In the years since spoiling Keith's chances to be reelected sheriff, Veronica hasn't taken a case. But something big is about to bring her back home and back to her calling. My goal is to include as many of your favorite characters as possible. It is, after all, time for Veronica's 10-year high school reunion.
Click over to Kickstarter to learn more about the film. I don't know about you, but I'm heading over right now to fork over some of my hard-earned cash.