Star Wars Bits: Disney CEO Confirms Original Cast Is In Talks, Plus: 'Star Wars: First Assault', Billy Dee Williams, Warwick Davis, Joseph Gordon-Levitt, And More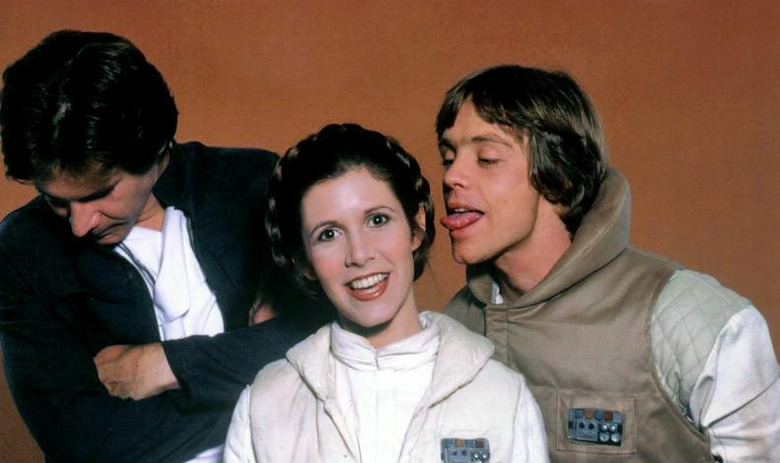 Now that a director's been locked in for Episode VII, the big question is who'll get to star in it. And that's what today's Star Wars Bits is all about. After the jump:
Disney CEO confirms the original trio is in talks to return
Billy Dee Williams has also been asked to come back
Warwick Davis is "definitely" looking to do more Star Wars
New details revealed for Star Wars: First Assault game
Eli Roth, JGL, Mila Kunis, Stanley Tucci and more weigh in
Well, George Lucas was quoted as saying that they would, but we haven't made any official announcement yet. We've got a team working on the film right now. J.J. Abrams is going to direct it. We've got a writer named Michael Arndt, who's actually writing the script working with some of the folks that were involved in some of the earlier films, and when the story is quote unquote broken, we'll make decisions about the cast, and we'll move from there.
No, it's still not an official confirmation that they're set to return, but it's about as close as we can hope for right now. [via Comic Book]
In other returning character news, Billy Dee Williams' campaign to reprise the role of Lando Calrissian for Episode VII has apparently paid off. Now the question is whether he actually wants to do it. According to a fan who spoke with him at the Monster Mania Con in New Jersey last weekend, the actor said he has been asked to return, but has yet to decide whether he'll accept the offer.
Williams' big-screen career isn't exactly thriving these days, so at first blush saying yes seems like a no-brainer. But on the other hand, he is about to turn 76. I wouldn't blame the guy if he just wants to take it easy. (In contrast, Ford is 70, Hamill is 61, and Fisher is a relatively spry 56.) On a purely selfish level, though, I'd love to see him back in action, even if it's just for a short cameo. [Film Buff Online]
Meanwhile, Warwick Davis is also eager to get a call should the powers that be want him back. "I'm looking for it, definitely," he responded when asked whether he wanted to come back. Specifically, he'd love to wield a lightsaber this time.
And if you can help people know that I'm looking for it, it's also appreciated. It would be great. I'm an actor, basically. I love to work.[...] I love to perform so to be able to go back into something like Star Wars... what a lovely thing that would be to say, that I've been in all three trilogies. I'm not dying to get back inside an Ewok suit. I'm happy to play a villain perhaps, [or] a Jedi. A villain with a light saber is the ultimate goal, if that's not asking too much. I never got a light saber before and I think just to have one of them, to be able to wave one of them around a little bit, would be huge. I'm dropping loads of hints at the moment, so we'll see what happens.
Davis, for those who need a refresher, played Wicket in Episode VI: Return of the Jedi and played multiple roles in Episode I: The Phantom Menace. It'd be quite the coup if he could score a spot in the new trilogy as well. [IGN]
Remember Star Wars: Battlefront III, the shooter that was 99% finished before LucasArts killed it? Apparently there was also a downloadable "predecessor" called Star Wars: First Assault that was originally due out this spring... that is, before Disney's acquisition of LucasFilm put the brakes on any new game announcements.
As of now, according to a source, Disney's yet to decide what it wants to do with First Assault and it's not at all clear the game will ever make it to shelves. Read more about it at Kotaku.
It seems these days you can't get a movie made in Hollywood without first checking to see if Joseph Gordon-Levitt, by any chance, might want to star. It wouldn't be remotely surprising, then, if his name cropped up once J.J. Abrams' Episode VII began casting in earnest. But Gordon-Levitt says it's too soon for him to say if the role is even something he'd want to do.
It all depends, you know. I always make decisions based on the same things: the filmmaker and the script. Those are the two things that I care about. So it won't be any different.
Sure, that makes sense. But we'll just point out that with Abrams in the director's chair and Michael Arndt plugging away at the script, Episode VII is looking pretty good from here. [Movies.com]
Of course, Gordon-Levitt isn't the only film biz professional who's fielded the Star Wars question lately. In fact, it's been a part of the standard interview repertoire since the moment the new film was announced.
In this compilation from TotalFilm, Stanley Tucci, Ewan McGregor, Joss Whedon, Rachel Weisz, Jason Statham, Bryan Singer, Eli Roth, Olga Kurylenko, Nicholas Hoult, Eleanor Tomlinson, Jai Courtney, Mila Kunis, Michelle Williams, Mark Wahlberg, Melissa McCarthy, and Jason Bateman all weigh in with their thoughts on the franchise.
Or, if you'd rather not watch the whole thing, here are a few highlights.
Tucci:
[Sarcastically] No. 'Cause, you know, they werent very successful to begin with so why would I want to be a part of that. Yeah! Hello, yeah. Yeah.
McGregor:
I'd rather I did it than someone else did it. I just don't know how they would — they haven't approached me, but I don't know how it would work. Yeah, definitely.
Whedon:
Well, if it ever happened in the future and I was free, that would certainly be a conversation.[...] But I was never contacted because it was built by Disney, who owns Marvel, so they knew very well that I wasn't available. At least, that's why I tell myself I wasn't contacted.
Roth:
Star Wars is clearly the reason I'm making movies. [...] So, yes, if Kathleen Kennedy would like me to direct a Star Wars I'm sure I can clear my schedule. [...] You're talking to the guy who'd make a whole movie about Lobot. Or Dianoga. Obviously I want to see a Han Solo, but boba Fett spinoff also I think is a great idea but I want to see a whole movie about Greedo. I want Greedo, I want Hammerhead, I could even sit through a feature film about the Sarlacc.
Kunis:
Well, there's two people out there. There's Star Trek fans, and there's Star Wars fans. I'm a Star Trek fan. I respect Star Wars, I'm a bit of a sci-fi nerd, but if geared toward one or the other I'd choose Star Trek. Next Generation, to be specific.
McCarthy:
I am putting it out there that I could kill that Chewbacca, if you'd just give me a shot. I think I could. I would be willing to grow hair. I would play Chewbacca would more heart and grit.
Which of these do you want to see take a role?