Theme Park Bits: Shanghai Disneyland, 'Ratatouille Kitchen Calamity', 'Transformers: The Ride 3D', 'Despicable Me Minion Mayhem', Imagineers, Stephen Chow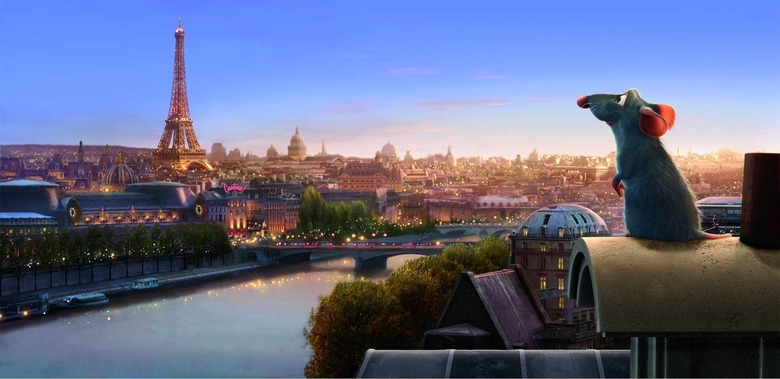 If you don't have plans for the next couple of summers yet, you may be tempted to take some theme park trips after you read this post. After the jump:
Disneyland Paris will get a Ratatouille attraction in 2014
Check out the first model image from Shanghai Disneyland
Disney's Imagineers will be the subject of a new documentary
Universal Florida's Transformers ride prepares for its launch
Despicable Me Minion Mayhem opens in Hollywood next year
Stephen Chow is making a Journey to the West-themed park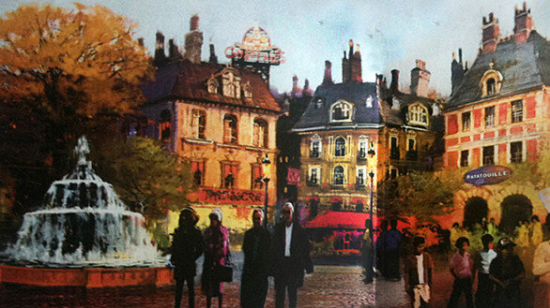 According to those, guests will be "shrunk" down to Remy's size and chased around by the villainous Chef Skinner while in the queue. The ride itself will then take visitors along a trackless indoor path, where they'll encounter animatronic figures, special effects, and 3D imagery. [
]
Shanghai Disneyland is still a couple of years out, but we can get an idea of what it'll look like right now. Disney CEO Bob Iger brought along the first model image to show shareholders at last week's meeting. The artist's rendering shows the central hub of the park, called Gardens of Imagination. Off in the distance you can see the Enchanted Storybook Castle; click through the gallery for a closer look at that particular building.
According to
(via
), Shanghai Disneyland will consist of Mickey Avenue (the equivalent to Main Street USA from the original Disneyland), Treasure Cove and Adventure Isle (together, the counterpart to Adventureland), Fantasyland, Tomorrowland, and Toy Story Land.
In addition, the Shanghai Disney Resort as a whole will include "two themed hotels, a dining and entertainment venue, recreational facilities, a lake and associated parking and transportation hubs." The park is on track to open in late 2015. [
]
Of course, all of these cool-sounding parks and attractions don't spring to life by themselves. They come about as the result of years of work by Disney's famed Imagineers, the division founded in 1952 to oversee the design and production of the original Disneyland. And we'll get to see some of that process in a new film.
The company has been working with director Leslie Iwerks (The Pixar Story) for the past year on a documentary about the Imagineering team, to be released in conjunction with the opening of Shanghai Disneyland. Iwerks' own history with the Mouse House goes back a ways — she's the granddaughter of Mickey Mouse co-creator Ub Iwerks. He was the subject of her first directorial effort, 1999's The Hand Behind the Mouse: The Ub Iwerks Story. [
]
2014 will be a big year for Despicable Me's Minions. In addition to a spinoff film
, they'll also get a ride called Despicable Me Minion Mayhem at Universal Studios Hollywood. Though it'll be modeled after the Universal Studios Florida ride of the same name, the company promises the Hollywood version will contain some surprises of its own.
The "3D Ultra-HD movie motion-simulator adventure" that takes guests along on Gru's scheme to turn make more Minions out of human recruits.
Guests will be transported into Gru's house as they meander through his living room and encounter visual elements as seen in the film – including the moon-shrinking SR-6 shrink ray – while they zig zag through a zany adventure featuring Gru's super-villain laboratory. The exciting journey continues as they swerve, bounce and plunge to get through the frantically humorous Minion training mission while donning specially designed 3D Minion goggles. Fun and frolic continue in a post-show dance party where Minion walkaround characters invite guests to strut their stuff in an impromptu Minion-inspired dance party.
An exact opening date has not yet been announced. In the meantime, though, we can look forward to the Minions movie opening December 19, 2014. [
]
While Minion Mayhem is expanding to Hollywood after starting out in Orlando, the reverse is true for another Universal Studios blockbuster ride. As announced last year, Transformers: The Ride 3D is coming to Universal Studios Florida this year. While the attraction itself isn't quite ready to open its doors yet, it's already launched a gift shop. In addition, Optimus Prime and Bumblebee have been spotted mingling with the guests all around the park.
TRANSFORMERS Characters
Optimus Prime, leader of the Autobots, and Bumblebee are now making in-park appearances at Universal Studios Florida. Towering at more than nine-feet-tall, the characters will be in-park daily to meet, interact and take larger-than-life photos with guests. Optimus Prime will speak directly to guests as he encourages them to join the Autobots in the fight to save mankind from the Decepticons.
"Supply Vault" Merchandise Store
Guests can stock up on battle gear at the Supply Vault – the official merchandise store for TRANSFORMERS: The Ride – 3D. The store features an assortment of TRANSFORMERS merchandise, including action figures, apparel, Bumblebee car decals, military NEST cadet hats and more.
Transformers: The Ride 3D will welcome guests sometime this summer at Universal Studios Florida. [
 via
]
Finally, in non-Universal, non-Disney theme park news: Stephen Chow has just struck a deal for a new theme park in China based on his new hit film Journey to the West: Conquering the Demons. The attraction, tentatively titled Journey to the West Film City, will also have installments from A Chinese Odyssey, the Jeffrey Lau-directed franchise from the 1990s that starred Chow.
Located in Wuzhen (about 90 minutes from Shanghai by car), the 173-acre entertainment complex will feature "high-tech entertainment," hotels, exhibition and commercial facilities. Construction on the park will start in the second half of this year. The first parts of the complex are expected to open to the public in 2015. [
]