Sequel Bits: 'Star Trek Into Darkness', 'G.I. Joe: Retaliation', 'V/H/S/2', 'Sin City: A Dame To Kill For', 'The Simpsons Movie 2', 'Clerks 3'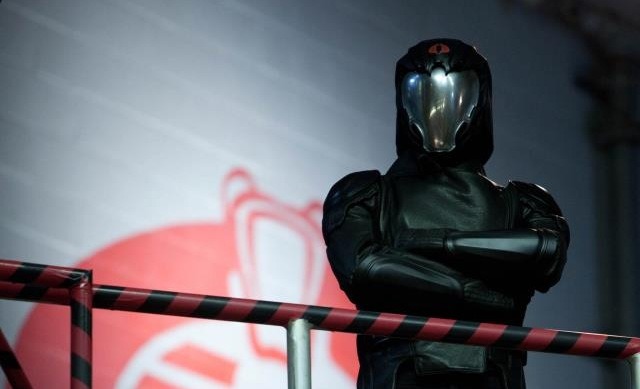 Who exactly is G.I. Joe: Retaliation's Cobra Commander? Find out after the jump. Also:
Expect the cast to return for Oz The Great and Powerful 2
Josh Duhamel will make a cameo in Transformers 4
Joseph Gordon-Levitt talks Sin City: A Dame to Kill For
Don't hold your breath for a Simpsons Movie sequel
A Ghost Rider: Spirit of Vengeance stuntman is suing Sony
V/H/S 2 gets a release date and some new images
See images and video from the Star Trek scoring studio
Just what is in that new Star Trek Into Darkness teaser?
Jon Chu, the director, and I went to college together. And he asked me to come and just do a temp track for the voice because he had done it himself and he said, 'Every time I hear it I get pulled out of the movie and I can't focus on it.' So I came in and did the temp track and then just kept doing it and kept doing it and kept doing it. And finally he's like, 'The studio just wants you to be the voice of Cobra Commander.'
Baker won't be the physical presence behind the mask, however. That'd be Luke Bracey. G.I. Joe: Retaliation opens March 28. [via Comic Book Movie]
Director Sam Raimi has already counted himself out of the Oz The Great and Powerful sequel, but it sounds like most of the cast is still in. "We're all signed on for sequels," Mila Kunis told E! Online.
The actress didn't specify which of her co-stars she was talking about, but the main characters in the original included Kunis, Michelle Williams, Rachel Weisz, and James Franco. Additionally, Joey King and Zach Braff, who voiced China Girl and Finley, could be included in that count. Such sequel signings is pretty standard operating procedure for studios at this point. [via First Showing]
The all-new cast of Transformers 4 will likely include at least one familiar face. During an interview at SXSW, Josh Duhamel revealed that Michael Bay had floated the idea of a cameo.
[Bay] said he wants to put me in it someplace. I don't know if he was just saying that because he had me on the phone and he felt obligated or what, but you know what? I got to do three of those. It changed my career, it changed my life getting to be a part of something that big, so I'm grateful for even doing the first three of them.
Since Duhamel's William Lennox wasn't one of the main human characters in the original trilogy, his presence could be a non-distracting way to bridge the gap between the old movies and the new. Transformers 4 is on track for a June 27, 2014 release. [THR]
Those curious to learn more about Joseph Gordon-Levitt's Sin City: A Dame to Kill For character won't get any help from the comics. While some of the stories in the film will be based on Frank Miller's books, others will be brand-new for the movie, including the one about Gordon-Levitt's Johnny. The actor explains:
It's interesting. They wanted to have a movie where fans of the books would still be able to look forward to something new and unexpected, so they added a story. I remember being really intrigued by that and I was really looking forward to, 'Oh that will be so interesting to have the actual comics to refer to as an actor' but no I didn't.
Still, Johnny will be seen crossing paths with Sin City's more familiar residents. "I saw Bruce [Willis] and Mickey [Rourke] and I have a scene together, and Jessica [Alba]. I was so stoked," he said. Sin City: A Dame to Kill For hits October 4. [Coming Soon]
It took The Simpsons some eighteen years to get to the big screen, and it seems their return to it won't be much faster. "It took us four years [to make The Simpsons Movie] and it killed us," series creator Matt Groening told a crowd at UCLA's entertainment symposium.
Groening recalled that the cinematic effort "stole animators from the show" and leached away at other resources. A film sequel isn't an impossibility, but it's certainly not happening anytime soon. "Maybe in another 10, 15 years," said producer-director David Silverman. [THR]
Ghost Rider: Spirit of Vengeance is causing some legal trouble. Stuntman Michael Gaboff has just sued Sony Pictures for negligence after he sustained live-threatening injuries sustained during a promotional stunt for the DVD. The stunt, which saw him lit on fire and jumping across a lake, left him with a broken back, collapsed lungs, and second-degree burns. According to Gaboff, it left him with $1 million in medical bills.
Sony has declined to comment, but producer Break Media insisted in a statement that it was not at fault. "[Gaboff was hired] as an independent third party and was fully responsible for the design and execution of the stunt. Any claims to the contrary are false," they wrote. [THR]
Get an entire season's worth of thrills with just one film this summer. Magnet has just announced a June 6 VOD release and a July 12 limited theatrical opening for V/H/S/2, the sequel to last year's horror hit. The new anthology features segments by Gareth Evans (The Raid) and Eduardo Sanchez (The Blair Witch Project), Adam Wingard (You're Next), Jacob Eisener (Hobo With a Shotgun), and more. Check out some creepy images below:
Searching for a missing student, two private investigators break into his abandoned house and find another collection of mysterious VHS tapes. In viewing the horrific contents of each cassette, they realize there may be terrifying motives behind the student's disappearance.
[via Collider]
J.J. Abrams likes to keep his projects as secretive as possible, but frequent collaborator Michael Giacchino seems a bit more open. The composer has begun working on the score for Star Trek Into Darkness, and has been tweeting photos and video from the set throughout the process.
Many more can be found at Giacchino's Twitter page. Star Trek Into Darkness lands May 17. [via Trek Movie]
The new Star Trek Into Darkness teaser revealed over the weekend was heavy on the action, that much was clear. But its fast-moving nature made it tough to soak in all the details, so one enterprising website has posted a shot by shot breakdown, including transcriptions of the dialogue and notations on all the new scenes. Head to TrekMovie to check it out.